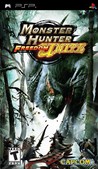 Summary:
The Monster Hunter world is always changing and you will need to be ready for anything - but killing and trapping monsters will always be most important part of your duty. Monster Hunter Freedom Unite is the biggest game of the series so far, letting you adventure with up to three friends through over 500 hours of gameplay. In MHFU you can battle previously unseen monsters in new environments, not to mention the many new weapons and armor sets available. From devising the strategy to executing the attack, team play with your friends is going to be key to hunting down the ferocious beasts. MHFU rewards considered tactics and well-executed combat sequences so plan and work together and you will prosper. [Capcom]
Designer/Producer/Programmer credits provided by
GameFAQs
.
If you contributed to this game and feel you should be credited, please read our
FAQ
.
| | |
| --- | --- |
| | |
| | #2 Most Discussed PSP Game of 2009 |
| | #3 Most Shared PSP Game of 2009 |