Publisher:

Capcom

Release Date:

Jun 22, 2009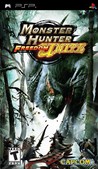 Summary:

The Monster Hunter world is always changing and you will need to be ready for anything - but killing and trapping monsters will always be most important part of your duty. Monster Hunter Freedom Unite is the biggest game of the series so far, letting you adventure with up to three friends

The Monster Hunter world is always changing and you will need to be ready for anything - but killing and trapping monsters will always be most important part of your duty. Monster Hunter Freedom Unite is the biggest game of the series so far, letting you adventure with up to three friends through over 500 hours of gameplay. In MHFU you can battle previously unseen monsters in new environments, not to mention the many new weapons and armor sets available. From devising the strategy to executing the attack, team play with your friends is going to be key to hunting down the ferocious beasts. MHFU rewards considered tactics and well-executed combat sequences so plan and work together and you will prosper. [Capcom]

…

Collapse

Developer:

Capcom

Genre(s):

Action RPG

# of players:

1-4

Cheats:

On GameFAQs

Rating:

T
The graphics are utterly gorgeous, and the soundtrack is a wistful selection of haunting folk music. In a lot of ways, this game conjures up nostalgia for a time that never was; but this matters not. This is a game that single-handedly moves PSPs in Japan. Now we can see why. [Aug 2009, p.76]

We will just say that we can't stop playing it until dawn, even having to go to the office the next morning. That's how great this game is.

It's incredibly addictive. A great upgrade for Freedom 2 and one of the best PSP games today.

Monster Hunter Freedom Unite is a quality product. It offers a thorough and interesting gameplay - albeit not so various - thanks to a considerable amount of collectibles and monsters. It does have some minor glitches here and there, but technically speaking it is worth the money. It also boasts an excellent co-op mode worth hours of shared fun.

Despite the cooperative mode for four players, just the main mode alone offers hundreds of hours of longevity.

There are over 400 missions, which is insanely impressive and the depth of the weapon and armor customization is ridiculously. But in the end, all that content feels kind of wasted due to the horrible camera and lackluster combat.
Beginning with Monster Hunter Freedom, I became addicted. Never before on a game have i put over 250 hours of my life into, and I have been

Beginning with Monster Hunter Freedom, I became addicted. Never before on a game have i put over 250 hours of my life into, and I have been playing games since i was 5 (I am now 17.) The multiplayer is unmatched. I know many will disagree with me, but i find working together to strategically hunt giant monsters with 3 friends by my side much more engrossing than other multiplayer games such as the Halo series, Gears of War, Super Mario Bros., and even Super Smash Bros. Although those comparisons are biased in which each is of a different genre, i personally find the fun factor and depth a lot more intense and engrossing. Plus, the high customization levels help a player show off his/her new exaggerated weapon or armour. There just is not a fault to be found in this game, everything about the game runs smoothly, nothing is tedious, and the graphics makes one forget he/she is on a PSP, and think the game is a PS2 game. Truly perfected party game.

…

Expand

The Monster Hunter series of games are simply amazing. This latest entry in the series adds the usual new missions, new monsters, new weapons

The Monster Hunter series of games are simply amazing. This latest entry in the series adds the usual new missions, new monsters, new weapons and armor, and new items, but it also adds more. Now you are also able to hire a Felyne companion to go with you on missions. At $30, this game is a ridiculously high value. You can easily put several hundred hours into the game. I highly recommend that EVERYONE check this out.

…

Expand

Monster Hunter Freedom Unite is part of the 'Monster Hunter' series where you take on the role of a hunter of one of two Archetypes, Hunter or

Monster Hunter Freedom Unite is part of the 'Monster Hunter' series where you take on the role of a hunter of one of two Archetypes, Hunter or Gunner. In your quest, you are tasked with both defeating hulking beasts and collecting resources to be used for doing so. Monster Hunter has deep game-play and the weapon you choose greatly effects how things will play out. Each weapon totally changes how the game plays and what you will need to take with you. This game may have a steep learning curve, but as soon as you overcome the difficulty, you will find this game to be both an excellent purchase and a heap of fun. This game is widely based around co-op (See 'Unite' in title) and becomes a lot more fun if you played with 1-3 friends, The solo play is very fun, but the game truly shines in co-op.

…

Expand

This game is not several things. It is not forgiving. It is not hand-holding. It is not easy. It is something that will challenge you every

This game is not several things. It is not forgiving. It is not hand-holding. It is not easy. It is something that will challenge you every step of the way, with every mission an achievement, every new hunt a fear-inducing experience that forces you to learn all your options and those of the monsters you are trying to hunt. If you truly get into it, this game will earn your respect. Unlike some other games that feel like a cheap one-night stand to be tossed aside with the dawn, Monster Hunter will gain your respect, and eventually, love.

…

Expand

Honestly, its a console quality game, its a game you can easily spend a couple hundred hours on if you get into it, and even then you

Honestly, its a console quality game, its a game you can easily spend a couple hundred hours on if you get into it, and even then you wouldn't be experiencing all the content in it. definitely a five star game, this will be the only umd in my psp until final fantasy dissidia comes out.

…

Expand

Definitely an expansive game: A huge range of foes to face, which you can either face alone, with a feline companion, or with three of your

Definitely an expansive game: A huge range of foes to face, which you can either face alone, with a feline companion, or with three of your friends. Marvellous graphics for a PSP game at its time, and a memorable soundtrack. You can spend well over 300 hours on this game, and still have quests to complete, which makes it one of the most successful series of game for the PSP. If you are looking for a game for your PSP, this is the one you should get.

…

Expand

This is a great game to experience for the psp, it's highly addicting. It's a very long game game to complete, and it fun playing it with

This is a great game to experience for the psp, it's highly addicting. It's a very long game game to complete, and it fun playing it with friends with up to 4 in a quest. Their are a huge selection of weapons to choose from, same goes for the gear. I highly enjoy this game only issue is the repetitiveness, like after a mission you may get in this routine of going to your farm, then your house to eat, then back into another quest, other then that the combat is rewarding even when you get to see (also in color or size) and face a new monster. Personal story: I got very far in the game, but when It was lost/stolen I simply just refused to repurchase because I would get bored of starting over. Other then that it's still a fun game to get even during this day, I havn't tried any others, but this is an awesome game to go handheld with friends.

…

Expand