Publisher:

Midway

Release Date:

Nov 15, 2006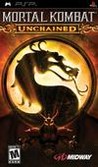 Summary:

This sixth episode of the ulraviolent and visceral fighting series from Midway features all-new fighters include Darrius, Dairou and Kobra. More than 24 different kombatants, Konquest adventure mode and a Kombat Chess mini-game are also in the game.
Developer:

JGI Entertainment

Genre(s):

Action

,

Fighting

,

Fighting

,

3D

,

3D

# of players:

1-2

Cheats:

On GameFAQs

Rating:

M
It's not quite perfect but it's as close as you can get on the PSP for now, and until they design a new MK release specifically for Sony's handheld, this is definitely a worthwhile purchase for beat 'em up fans who enjoy the gore and novelties that the MK series has always provided.

The loading times are a bit long, but once the limbs begin to fly, it's hard to deny this game's gory charm.

This is what fans have been waiting for. This is the definitive Mortal Kombat title for handhelds. You have more fatalities, self-fatalities (hara-kiri), stage fatalities, more characters, four deep modes of play, unlockable Krypt items, and online play.

Don't be surprised if the strategic Chess Kombat and the Super Puzzle Fighter-esque Puzzle Kombat overshadow Unchained's main event. [Feb. 2007, p.83]

Due to some system constraints, poor camera issues and control problems, a great game is literally relegated to a just decent fighter on the handheld.

Based on 2004's Mortal Kombat: Deception, this version gains some extra characters but little else to make it worthwhile for fans of Midway's gory fighting-game series.

Inspired from the somewhat average Mortal Kombat: Deception on PlayStation 2, this reduced version features too many omissions to be as enjoyable.
The game is excellent.Good graphics.It has extras like puzzle kombat and chess which RULES!They should make more Mortal Kombat games for PSP

The game is excellent.Good graphics.It has extras like puzzle kombat and chess which RULES!They should make more Mortal Kombat games for PSP or whatever system.

…

Expand

The game is great, 4 new characters goro, shao khan, blaze, and frost. All the characters are unlocked at the begining for ready arcade play,

The game is great, 4 new characters goro, shao khan, blaze, and frost. All the characters are unlocked at the begining for ready arcade play, plus good extras the only down thing about this game is the graphics are a bit poor.

…

Expand

Esse com toda certeza é o melhor jogo dessa série para Playstation (PSP também), ma história boa, uma ótima jogabilidade e ainda novos

Esse com toda certeza é o melhor jogo dessa série para Playstation (PSP também), ma história boa, uma ótima jogabilidade e ainda novos personagens para se jogar.

…

Expand

Surprisingly fun and accurate port of the console title. Wish it had been the next one in the series, but this one is worth checking out if

Surprisingly fun and accurate port of the console title. Wish it had been the next one in the series, but this one is worth checking out if you like good beat-em-ups with gorey fatalities. Very sharp graphics, easy to control, tons, absolutely tons of hidden unlockables.

…

Expand

Mortal Kombat Unchained is version MK Deception on PSP . Version for PlayStation 2 and Xbox Original has got more bad graphics or it seems .

Mortal Kombat Unchained is version MK Deception on PSP . Version for PlayStation 2 and Xbox Original has got more bad graphics or it seems . On PlayStation 2 at first half characters are locked , but on PSP all characters isnt locked at first . All Versions are good , but i think version for PSP better than for PS2 . Normal . 7/10 .

…

Expand

All the fun of mortal kombat deception but portable! However, there are better fighting games out there for the psp. Also, load times are

All the fun of mortal kombat deception but portable! However, there are better fighting games out there for the psp. Also, load times are atrocious. They can last quite a while. There is a lot to do in the game. However, it all gets pretty old after a while.

…

Expand
| | |
| --- | --- |
| 63 | |
| 25 | #25 Most Discussed PSP Game of 2006 |
| 13 | #13 Most Shared PSP Game of 2006 |