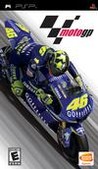 Summary:
Racing fans can take the excitement of Moto Grand Prix racing with them wherever they go as the game boasts thrilling new features including the new 2005 roster, unlockable rewards, and a wireless multiplayer mode that allows up to eight players to race against each other. The game boasts the new 2005 MotoGP roster which includes famous Riders such as Valentino Rossi, Marco Melandri, Nick Hayden, Troy Bayliss, Carlos Checa, Alex Barros and Shinya Nakano. Players face new challenges in this portable installment in order to unlock cool rewards such as one-on-one mode, hidden riders, Moto GP movies, and more. Players go head-to-head in time trial, arcade, one-on-one, and wireless multiplayer mode where up to eight players can race against one another at the same time. [Namco Bandai]
| | |
| --- | --- |
| Rating: | E |
| Developer: | Namco Bandai Games |
| Genre(s): | Racing |
| Number of Players: | 1-8 Players |
| Offline Modes: | Competitive |
Designer/Producer/Programmer credits provided by
GameFAQs
.
If you contributed to this game and feel you should be credited, please read our
FAQ
.