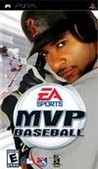 Summary:

Dominate from Wire to Wire: Take your team all the way from opening day to the World Series in Season mode. Wireless Head-to-Head Gameplay: Challenge friends sitting next to you or across the room to an Exhibition Game, Homerun Shootout, or Pitcher Showdown. Party Play: Four players can comp

ete in Batting and Pitching mini-games using one PSP unit. EA Pocket Trax: This new feature designed for PSP allows you to listen and watch music content via this built in player. [Electronic Arts]

…

Expand
Developer:

EA Canada

Genre(s):

Baseball

# of players:

1-2

Cheats:

On GameFAQs

Rating:

E
Unfortunately, there isn't a Franchise mode in MVP, but there is a great season mode, as well as an addictive Homerun Showdown. [May 2005, p.71]

MVP Baseball has all the makings of a great game but it lacks the polish and refinement and just has too many glitches to make a wholehearted recommendation. There's always next season.

Those expecting a full-on console version on the handheld will be disappointed, as EA serves a stripped-down game plagued with needlessly frustrating controls.

Franchise and online options have been left out, the batting system is mindless and the graphics are really choppy. In a way, this game's poor performance actually benefits you, the consumer, because you should know without any doubt that this is not the baseball game you want for your PSP.
This is way better than MLB. Besides you can't trust MLB look at Gretzky NHL. It's not all there! This game is so sweet. Buy it!!!!

The game is awsome and by far the best I have bought for my psp. However, there is nothing worse than getting into the top of the ninth, with

a 1 run lead and 1 out away from a big winand Bam! the game freezes. I have had it happen too many times to count. I had to get used to waiting for the scrren to flash, which signals me that the game is done with the substitution. Then proceed with the game play. I shoudn't have to spend my time trying to read the screen so I don't lose my 3 homerun performance. Other than that, I love this game.

…

Expand

I rented MLB while waiting on MVP to come out. I wasted my time. MVP's graphics remind me of PS1and trying to play on any level besides

rookie is nearly impossible. During the homerun derby you have to swing immediately after the pitcher releases the ball. Pathetic game and way below EA standards. On the other hand I was pleasantly surprised by MLB by 989. This game runs incredibly smooth and the graphics are excellent. Very realistic with little waiting time between pitches and outs. I used to be a big 989 fan during the PS1 days but EA stole the show. 989 has made me a fan all over again.

…

Expand