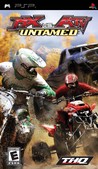 User Score
tbd
No user score yet- Awaiting 2 more ratings
Summary:

MX vs ATV kicks it up a notch and shifts into high gear as the best selling offroad franchise returns to the PSP. MX vs ATV's legendary Rhythm Racing lets players pre-load into massive jumps and clutch through hairpin turns at full speed all while retaining the smooth and authentic feel not

t found in any other game. Attempt to own the offroad by dominating the MX vs ATV World Tour. The MX vs ATV World Tour brings together 8 unique racing series like Stunt Race, Hang-Time and Combo Challenges on the trail to offroad superiority. Brand new styles of racing are born as powerful vehicles tear through treacherous trails in the new Flag Challenge and Time Attack event modes. Players can take control of seven different vehicle types, including Monster and Trophy Trucks, as they blitz through lush terrains and blaze through desert dunes in one of 8 massive, open worlds. The competition stiffens in freestyle challenges with stunt extenders and over 15 airborne and ground stunts. Be the last vehicle standing as 4 players compete over WiFi online. [THQ]

…

Collapse
Developer:

Rainbow Studios

Genre(s):

Racing

# of players:

4 Online

Cheats:

On GameFAQs

Rating:

E
The control mechanics are great, but there are issues with landing a trick cleanly, item placement for some of the goals and sometimes frustrating computer assist. If you're into offroad racing then it's certainly worth a look, but don't expect perfection.

Tantalus has done a decent job porting this to the PSP, and while Untamed is a solid installment in the series I'd still have to say Sony's ATV Offroad Fury Pro probably finishes slightly ahead of this title in overall quality.

Even with its issues though, MX vs ATV: Untamed is a rollicking good time, incredibly well-suited for a portable platform.

It probably would have been best if the PSP version of Untamed were kept in its cage.