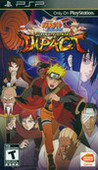 Summary:

NARUTO SHIPPUDEN: Ultimate Ninja Impact lets players unleash their honed Jutsu skills through exciting single-player and multiplayer modes. Story Battle lets fans become part of explosive NARUTO SHIPPUDEN fights straight from the anime with more events and battle sequences than ever before

NARUTO SHIPPUDEN: Ultimate Ninja Impact lets players unleash their honed Jutsu skills through exciting single-player and multiplayer modes. Story Battle lets fans become part of explosive NARUTO SHIPPUDEN fights straight from the anime with more events and battle sequences than ever before on the PSP. Tag Battle lets two friends connect through Ad-hoc to team up and complete over 20 missions cooperatively, while Versus Battle lets players battle against each other with their persistent customized characters across all modes. Over 20 characters are available to choose from across the NARUTO SHIPPUDEN universe with customization options that carry through each mode within the game.

…

Expand
Developer:

Racjin

Genre(s):

Action

,

Fighting

,

Fighting

,

3D

,

3D

Cheats:

On GameFAQs

Rating:

T
Please enter your birth date to watch this video:
You are not allowed to view this material at this time.
Naruto Shippuden: Ultimate Ninja Impact was a complete blast to play and offers plenty of challenges along the way both locally and over Ad-Hoc.

Naruto Shippuden: Ultimate Ninja Impact is a technically flawed game but features some solid gameplay and is better than past Naruto PSP titles.

Naruto Shippuden: Ultimate Ninja Impact is far too easy and repetitive, and it's got some very poor AI. The cel shaded characters are very nice to see, however, and there are plenty of missions to complete for the die-hard fans of the anime.

Sad, but true: Almost every Naruto game for PSP is better than this one. Weird that this game takes away all of Naruto's flair, so even fans could be very much disappointed by Ultimate Ninja Impact.

Ultimate Ninja Impact delivers an unexciting action game adaptation of the current Naruto storyline.

Part of me wants to really praise Naruto Shippuden: Ultimate Ninja Impact for not being what the Naruto fighting games have been, and part of me wants to just play Dynasty Warriors.

Though embracing the Dynasty Warriors style of gameplay could have yielded something with a lot of depth, Ultimate Ninja Impact instead seeks out the path of least complexity and falls well short of telling a compelling Naruto tale.
It's Pretty intense this games is one of the best games of naruto ever.. it's a mix of action,RPG anda a good stories retrated from the

It's Pretty intense this games is one of the best games of naruto ever.. it's a mix of action,RPG anda a good stories retrated from the anime.. it's really enjoyable

…

Expand

the best naruto psp game yet. this game makes me wanting play it more everyday. the graphics is not sio good but the gameplay is wonderfully

the best naruto psp game yet. this game makes me wanting play it more everyday. the graphics is not sio good but the gameplay is wonderfully made. the camera is a big problem but all psp games have this problem

…

Expand

Well, this game is one of the best Psp Naruto game which made yet, with more features with great gameplay and great story and this has four

Well, this game is one of the best Psp Naruto game which made yet, with more features with great gameplay and great story and this has four difficulty which all of them are challenging. I prefer it is great to play it.

…

Expand

Naruto Shippuden Ultimate Ninja Impact is a very good game in my opinion, the graphics aren't' bad either considering that this game is on the

Naruto Shippuden Ultimate Ninja Impact is a very good game in my opinion, the graphics aren't' bad either considering that this game is on the psp. Players can experience the whole Naruto shippuden storyline up to the 5 Kage summit arc, I agree that there are only 25 characters in this games that you can play with and also there is no vs mode, but overall this is a pretty good game and I will recommend it to all the Naruto fans out there

…

Expand

The game is called Naruto Shippuden: Ultimate Ninja Impact and it is only available on the Sony Playstation Portable. In this game you play as

The game is called Naruto Shippuden: Ultimate Ninja Impact and it is only available on the Sony Playstation Portable. In this game you play as the main characters of the anime series Naruto Shippuden and fulfil mission objectives. Typical objectives including beating up crowds of enemy ninjas, rescuing sidekicks and defeating bosses.

The story begins with Naruto returning to his village after three years of harsh training. He meets up with Sakura and Kakashi and the story progresses throughout the entire series up to the current episodes. You can play as all of the main characters of the series (Naruto, Sasuke, Shikamaru, Kakashi, Gai, Gaara, Bee, etc) and you can also play as the villains (Orochimaru, Kakuzu, Hidan, Sasori, Deidara, etc). Each character has a variety of special abilities called Jutsus. Most are designed to target several people at once. The missions are quite exciting and keep you on the edge of your seat with the dialogue.

The game covers the entire Shippuden storyline which is great if you want to relive classic moments of the series. The voice acting is great in the story mode segment and you can swap between the English Dub and Japanese voices at any time. The sound effects are good and the characters are portrayed well. The music fits the theme of the show and nothing seems out of place. It captures the spirit of the show very well. Even little moments like hearing Hidan arguing with Kakuzu make this game stand out from the crowd of other Naruto games.

There is a lot to see and do as you can level up your characters and purchase new ninja cards. The ninja cards allow you to construct decks which make your character stronger. Some of these are upgradable and some are rarer than others.

There are also extra side missions you can play which give you an interesting twist on the familiar story. There are challenges and co-operative missions for when you'd like to team up with a friend or cpu. The boss fights can sometimes get very interesting, such as when you have to defeat a form of Kakuzu that keeps changing and adopting a different strategy. The boss battles and Quick-Time-Events are very entertaining and keep you on the edge of your seat.

The fact that the story is entirely voiced is a great benefit as it enables you to truly experience Naruto Shippuden properly.

Overall this is a great game, particularly for fans of the original series and I recommend it if you are a hardcore fan. As a final swansong to the PSP, it really does fulfil it's job.

…

Expand

When I played this I was familiar with the Naruto storyline but knew almost nothing about the Shippuden storyline, and now that I've played

When I played this I was familiar with the Naruto storyline but knew almost nothing about the Shippuden storyline, and now that I've played through it I can say that the story and the way it is told in this game is fantastic, it's deeper, darker, and more emotional then than the previous Naruto series, characters new and old are fantastic, and after playing through this I'm ready to get back into this series and start obsessing over these characters all over again, however while the story and characters are fantastic the gameplay is not, don't get me wrong it provides mindless fun and it feels great taking down a hundred or more enemies at once, it's extremely repetitive and you'll mostly be doing the same thing throughout the game's lengthy story mode, and you're fighting brain-dead AI who sometimes just stand there and don't fight back, but it packs a lot of content in the form of things to unlock, co-op missions (locally or over Ad-Hoc), and bonus missions, and the graphics and sound are great, if your a Naruto fan with a PSP I highly recommend it to you even with it's issues, however if you've already dismissed the Naruto and Naruto: Shippuden anime and games as unenjoyable this won't change your mind, but if you are a fan this is a game that I can see remaining in your PSP for possibly hundreds of hours while you level grind, collect cards, play the co-op and extra missions, or just replay levels again and try to best all of the challenges, I know I loved it even if just for the story and you might to.

…

Collapse
| | |
| --- | --- |
| | |
| | #11 Most Discussed PSP Game of 2011 |
| | #1 Most Shared PSP Game of 2011 |