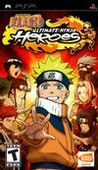 Summary:
The latest edition of the series offers a furious fighting game experience with up to 3-on-3 team-based gameplay, intense single player action and a wireless multi-player versus mode for up to two users all within the Naruto Universe. With eight interactive stages and 20 playable characters to choose from, gamers can take the battle outside the perimeters of the home to become the ultimate Hokage. In a new addition to the franchise, gamers also have the ability to create and customize their own ninja dream squads to battle opponents or trade player's profiles via wireless connectivity. To further maximize the character power-up feature, players can form different team combinations to awaken hidden skills that lie within each group. Depending on the combinations, special team based skills can be unleashed. Gamers can also earn power-up points towards upgrading each character's attack, defense, chakra, speed and even special abilities. [Namco Bandai Games]
Designer/Producer/Programmer credits provided by
GameFAQs
.
If you contributed to this game and feel you should be credited, please read our
FAQ
.