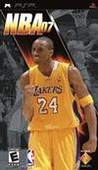 Summary:

Delivering the most engaging NBA experience with fast, fluid gameplay, NBA '07 for the PSP expands upon the franchise by offering the most feature-rich, handheld NBA action available. Officially licensed by the NBA, and introducing all-new gameplay modes, mini-games, and presentation, NBA

Delivering the most engaging NBA experience with fast, fluid gameplay, NBA '07 for the PSP expands upon the franchise by offering the most feature-rich, handheld NBA action available. Officially licensed by the NBA, and introducing all-new gameplay modes, mini-games, and presentation, NBA '07 is ready to deliver the thrill of and excitement of NBA action on the go. An all-new Conquest Mode allows players to take a team and challenge NBA squads across the country, while a new Pick Up Mode give gamers a chance to choose from 10 different NBA players for a playground-style match-up. In addition to the instant replay function, a new Highlight Reel option provides players the opportunity to view a select reel of highlight shots, passes, steals, and dunks at the end of each game. Players will also have more choices of quick pick-up-and-play mini-games, including an all-new rhythm-based dunk contest as well as carnival-style games including skee-ball, pinball, and pop-a-shot. Additionally, the game brings back popular mini-games such as Dodgeball and HORSE, as well as a comprehensive ladder challenge and virtual trading cards. [SCEA]

…

Expand

Developer:

SCEA

Genre(s):

Sim

# of players:

2 Online

Cheats:

On GameFAQs

Rating:

E
By far one of the most delightfully engaging and deep basketball games on the PSP so far, NBA '07 is not only an improvement over last year's fun offering but it's also a game that is good enough to give the other NBA b-ball games a run for their money.

An enjoyable basketball title, and one of the best available to date on the PSP handheld.

So long as you go into things understanding that this isn't really a console-level basketball experience and that it's uniquely designed for shorter, more portable games, you end up with a shockingly good basketball entry. If they end up adding in some of the fluff from the console versions next year, it's going to make things near irresistible.

In practice, it's a forgettable game that offers less than its competition. Instead of taking an evolutionary step up from last year's version of The Life, the game is content to shovel out more of the same.

In the final analysis, the Conquest Mode alone helps turn NBA 07 from a lottery pick into an 8th seed - good enough to make the playoffs but far too flawed for a run for the title.
gameplay is terrible, the psp needs a 2k basketball game that runs smoother and is not such a pain in the ass to play.