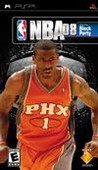 Summary:

NBA action on the go is back once again with NBA 08 for the PSP system. Delivering an engaging NBA experience with quick action and fluid gameplay, NBA 08 continues to expand on the franchise. NBA 08 introduces a number of brand new quick action mini-games that players can enjoy anytime,

NBA action on the go is back once again with NBA 08 for the PSP system. Delivering an engaging NBA experience with quick action and fluid gameplay, NBA 08 continues to expand on the franchise. NBA 08 introduces a number of brand new quick action mini-games that players can enjoy anytime, anywhere. All-new carnival-style games, as well as contests such as Fast Break, Block-a-Shot, and Alley-Oop, are all available to provide fast and engaging action that further adds to the stable of traditional and non-traditional basketball gameplay. Additionally, players will experience a more challenging Season Mode, where player management and balancing team chemistry come into play. Refined gameplay mechanics and Artificial Intelligence (A.I.) also help to create a more realistic and action-oriented gameplay experience. [SCEA]

…

Expand

Developer:

SCEA

Genre(s):

Sim

# of players:

2 Online

Cheats:

On GameFAQs

Rating:

E
NBA 08 on PSP is definitely the best of the three NBA 08 games, and a good basketball game to boot.

The b-ball gameplay is great – stellar controls, smooth frame rate, and an impressive array of animations. NBA 08's pinball and Arkanoid-style mini-games are tons of fun, and the rest are entertaining diversions that encourage players to return.

The folks at SCE Studios San Diego have once again brought their A-game. They've somehow managed to cram an incredible amount of action into their fourth PSP hoops release.

It's not the best NBA game available; however it is a great addition to the franchise and has made some significant leaps from last year's version.

I just want to take the time to request that everyone take notice of Conquest mode. It's really a shot in the arm for sports games and should really be present in every other title in the genre.

The single-player Conquest mode and robust multiplayer capabilities do help to redeem this title and are certainly worth a look, but if you already own NBA 07, you should carefully consider if NBA 08 offers enough improvements and new features to justify a purchase.

Still, we can't fully recommend a basketball game if the main function of the game is this broken. If you can't shoot worth a damn or defend worth a damn, then, really, what's the point if the AI is just going to run right over you?
Wow. Sounds like folks at digital entertainment news dont really know how to rank a game. a 48? what they dont realize is that this game

Wow. Sounds like folks at digital entertainment news dont really know how to rank a game. a 48? what they dont realize is that this game never claimed to be a perfect simulation for basketball purists. It is supposed to be fun on a handheld, and thats exactly what it is. before, i played Live 08, and THAT was a terrible game. NBA 08 is a slick package that will keep you busy for the whole year!

…

Expand

This game wasn't all that. One problem I really had as I was trying to play season mode was why do they only give you four minute

This game wasn't all that. One problem I really had as I was trying to play season mode was why do they only give you four minute quarters? I only averaged 72.3 PPG. But the one thing that did get me hooked on playing it was the conquer mode and a hilarious but fun idea was the dodgeball game. Very creative. I wouldn't recomend the season mode to ther players but the mini games and other fun activites were great!

…

Expand

Unacceptable garbage. Sure there are some decent mini games, and I particularly enjoyed the "pick-up game" option but if you actually want to

Unacceptable garbage. Sure there are some decent mini games, and I particularly enjoyed the "pick-up game" option but if you actually want to play BASKETBALL then this game will offend you. In Dynasty mode, no matter what you set the quarter length to, the 2nd, 3rd, and 4th quarters are all 4 minutes each. So even on easy the most you can score in season game is about 50 team points. Unacceptable garbage. Gamestop even gave me a full refund since this can technically count as a "defective" game. But each and every copy has this same "defect." Don't waste your money on this one.

…

Expand