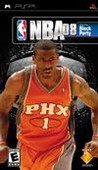 Summary:
NBA action on the go is back once again with NBA 08 for the PSP system. Delivering an engaging NBA experience with quick action and fluid gameplay, NBA 08 continues to expand on the franchise. NBA 08 introduces a number of brand new quick action mini-games that players can enjoy anytime, anywhere. All-new carnival-style games, as well as contests such as Fast Break, Block-a-Shot, and Alley-Oop, are all available to provide fast and engaging action that further adds to the stable of traditional and non-traditional basketball gameplay. Additionally, players will experience a more challenging Season Mode, where player management and balancing team chemistry come into play. Refined gameplay mechanics and Artificial Intelligence (A.I.) also help to create a more realistic and action-oriented gameplay experience. [SCEA]
| | |
| --- | --- |
| Rating: | E |
| Official Site: | http://www.us.playstation.com/NBA08/ |
| Developer: | SCEA |
| Genre(s): | Basketball |
| Number of Players: | 1 Player |
| License: | Major League Sport |
| Number of Online Players: | 2 Players Online |
Designer/Producer/Programmer credits provided by
GameFAQs
.
If you contributed to this game and feel you should be credited, please read our
FAQ
.