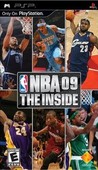 Summary:

Combining a blend of arcade and simulation basketball along with a host of unique mini-games, NBA 09 The Inside delivers an engaging NBA experience with quick action and fluid gameplay. New this year is Franchise Mode, where players have the opportunity to take control of their favorite NBA

team and make every decision from drafting players, to signing free agents, to managing player contracts. Elimiquest, a twist on the popular Conquest Mode, is available to let players take over the entire country while playing in the style of the Elimination mini-game. NBA 09 The Inside introduces a number of new, quick action mini-games that players can enjoy anytime, anywhere. All-new mini-games, from the bowling-style arcade game Alley-Oop, to contests such as the modified 5-on-5 game Give & Go, to new basketball-themed pinball tables, are all available to provide fast and engaging action that further adds to the stable of traditional and non-traditional basketball gameplay. Refined gameplay mechanics and Artificial Intelligence (A.I.) also help to create a more realistic and action-oriented gameplay experience. [SCEA]

…

Expand
Developer:

SCEA San Diego Studios

Genre(s):

Basketball

# of players:

1-2

Cheats:

On GameFAQs

Rating:

E
NBA 09: The Inside is a great portable basketball title.

Anyone looking for a solid NBA simulator with a strong franchise mode and who also wants something more with their game can't go wrong with NBA 09 The Inside for the PSP.

The on-court action can be tough to follow at times, but because the game makes no attempt to disguise its arcade-style action as a true basketball sim (and often flaunts its arcade attitude), the problems with the five-on-five action are easy to overlook. In fact, the mini-games add so much to this title I'd feel comfortable recommending it for them alone.

NBA '09: The Inside is a decent basketball title, but an extremely fun mini-games collection. Block Party alone makes this game a worthy pick up and will satisfy your portable playing this season. There is still a functional, if not a little bit disappointing, regular basketball option, but you can see that SCE did not put enough focus into appealing to gamers who just want to play.
Hands down worst basketball game ever.nobody looks like they should and when your on defense you might as well put down the controller and ju

st watch cuz you cant stop the offense for shit,completely ridiculous i scored 210 pointsin 7 min quarters.so unrealistic i could kill myself.if i had had any part in the making of this game i would murder all my co workers, family and friends, neighbors,pets and anyone stupid enough to purchase this "GAME" and then hang myself with my own shame. you motherfuckers r lucky i only rented this piece of shit.

…

Expand