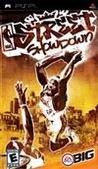 Summary:

Rule the Streets: Take on the biggest stars of the NBA in full Street style, battle it out with a 3-on-3 game, or go on the ultimate quest to become a Street legend in the King of the Court mode. Create Your Own Baller: Add your personal style to your created street baller and hold your own

Rule the Streets: Take on the biggest stars of the NBA in full Street style, battle it out with a 3-on-3 game, or go on the ultimate quest to become a Street legend in the King of the Court mode. Create Your Own Baller: Add your personal style to your created street baller and hold your own against the greatest legends in King of the Court mode. Two Unique Game Modes: Earn style points in Shot Blocker and Arcade Shootout modes and enhance your status as the game's newest street legend. Wireless Head-to-Head Play: Play one-on-one against a friend in the original Pick Up game mode. Party Play: Up to four players can compete in two high-flyin' game modes: Shot Blocker and Arcade Shootout using one PSP. EA Pocket Trax: This new feature designed for PSP allows you to listen and watch music content via this built in player. [Electronic Arts]

…

Expand

Developer:

EA Canada

Genre(s):

Arcade

# of players:

1-4

Cheats:

On GameFAQs

Rating:

E
Looks and sounds amazing, fantastic gameplay whether you're after a quick match or a long session... Like games? You'll love this.

If you've played or own any of the games in the NBA Street series there's enough new content here to offer a unique experience as well as plenty of familiar ground to tread while on the move.

Plays a great game of basketball and is entirely entertaining. The only problems are the loss of a few moves from the PS2 version and a lack of extra game modes. [PSM2]

Manages to be pretty good despite itself, as it's still NBA Street at heart, which is the best arcade hoops franchise this side of 'NBA Jam."

You won't get the full Street experience with Showdown, but it more than gets the job done. [July 2005, p.89]

Gameplay issues aside, Showdown is still a very enjoyable game, mostly due to the fact that it offers a wide variety of game modes.

An otherwise solid playing game that comes up short in the control and play modes, especially when compared to "NBA Street V3," which is clearly the better option for those new to the arcade b-ball franchise.
This game I think is the best sports game for PSP so far. The arcade shootout and the shotblocker are very good mini-games for NBA Street:Showdown.

All the fu n that Street has offered us over the years. a classic brought to portable gaming system.

Everything a baller could want in a handheld game. Very impressive debut of the NBA Street on the PSP!