Publisher:

SCEA

Release Date:

Mar 14, 2006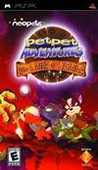 Summary:

Neopets: Petpet Adventures -- The Wand of Wishing is an action RPG game that brings the hidden world of the petpets to life in 3D for the first time. Players can choose from a variety of popular petpet characters to play and, utilizing the wireless Ad-Hoc mode, they will also be able to

Neopets: Petpet Adventures -- The Wand of Wishing is an action RPG game that brings the hidden world of the petpets to life in 3D for the first time. Players can choose from a variety of popular petpet characters to play and, utilizing the wireless Ad-Hoc mode, they will also be able to compete head-to-head in the Battledome and buy, sell and trade special items in the search to recover the fabled wand of wishing. [SCEA]

…

Expand
Developer:

SCEA

Genre(s):

Adventure

,

3D

,

Fantasy

,

Third-Person

,

Fantasy

# of players:

24 Online

Cheats:

On GameFAQs

Rating:

E
Sony has a great potential franchise here if they continue to polish and refine the gameplay and visuals with each installment, and I'd recommend they take this style of top-down action to the home consoles as well, adding even more features.

While the gameplay is fairly entertaining, and the environments and effects are quite nice, the game starts to chug when too much is going on, and the so-so sound and menial menus will have you feeling that the game is lacking a certain amount of polish.

Despite the low-level evolution of its RPG elements, Petpet Adventures still plays well, and its visuals and sound complement an easily accessible gameplay mechanic.

The many different details that affect the Petpets are very interesting and in a bigger adventure they could have had a bigger impact. Many of the pieces are in place, they just need a home.

Its cute and fluffy appearance is deceiving, as The Wand of Wishing turns out to be less accessible than the action RPGs it is derived from.

Sadly, this Wand of Wishing grants players only an average game.

It provides an adult style of gameplay with but set in a non-adult world that most parents could find little to complain about. However, for the older gamers out there, Neopets won't serve as more than a passing distraction at best.
I found that this game was a delight to play. It really showed how well the graphics really are. For young people, and children, this is by

I found that this game was a delight to play. It really showed how well the graphics really are. For young people, and children, this is by far the game to go with. It is very user friendly, as neopets always thanks to be. I really have to say this game is truly incredible.

…

Expand
| | |
| --- | --- |
| | |
| | #32 Most Shared PSP Game of 2006 |