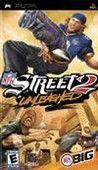 Summary:
Defy gravity and stretch the world of arcade football to the skies with NFL Street 2 Unleashed. NFL players are free from their real-world constraints to dominate the streets one stylin' move and one field at a time. Raise your game to the limits with up-the-wall passes, off-the-wall catches, and highlight-reel wall jukes that are sure to solidify your place as football's greatest urban legend. With New Exclusive Street Events, head-to-head wireless gameplay, NFL superstars and legends playing both sides of the ball, and new PSP-specific content, the time to own the streets is NOW. You won't find Street Events like Street Slalom, Style Standoff, and Style Point Challenge on any other platform. Up to four players use a single PSP unit to compete in game modes including 2 Minute Challenge, Jump Ball Challenge, and more. EA Pocket Trax is a new feature designed for PSP allows you to listen and watch music content via this built in player. [Electronic Arts]
| | |
| --- | --- |
| Rating: | E |
| Developer: | EA Tiburon |
| Genre(s): | Football |
| Number of Players: | 1-2 Players |
| ESRB Descriptors: | Mild Violence |
| Offline Modes: | Competitive |
| Connectivity: | Wi-Fi |
Designer/Producer/Programmer credits provided by
GameFAQs
.
If you contributed to this game and feel you should be be credited, please read our
FAQ
.