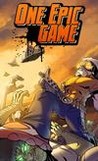 Summary:
One Epic Game is a perpetual motion action game. The game's hero constantly runs through randomly generated levels, avoiding obstacles and shooting enemies. The game has great 2D graphics, pumping soundtrack, story mode, many challenges to complete and a Free run mode to extend its play time.
Designer/Producer/Programmer credits provided by
GameFAQs
.
If you contributed to this game and feel you should be credited, please read our
FAQ
.