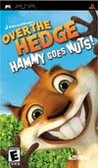 Summary:
Over the Hedge: Hammy Goes Nuts! is an all-new adventure based on the woodland creatures from DreamWorks Animation's hit film Over the Hedge. Fan favorite Hammy the squirrel leads RJ the raccoon, Verne the turtle and all-new forest friends on another daring trip into the 'burbs. When Hammy's beloved cable TV goes out, his buddies have to scramble through the neighborhood to restore the signal - and Hammy's happiness. [Activision]
| | |
| --- | --- |
| Rating: | E |
| Developer: | Amaze Entertainment |
| Genre(s): | Action, Platformer, Platformer, 3D, 3D |
| ESRB Descriptors: | Cartoon Violence |
| License: | Movie |
Designer/Producer/Programmer credits provided by
GameFAQs
.
If you contributed to this game and feel you should be credited, please read our
FAQ
.
| | |
| --- | --- |
| 96 | #96 Most Discussed PSP Game of 2006 |
| 52 | #52 Most Shared PSP Game of 2006 |