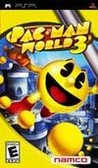 Summary:
In a mad search for power, evil genius Erwin creates a machine that can penetrate into the world of the Ghosts...the Spectral Realm! But now the Spectral Realm is collapsing into the real world, and this will bring about a massive catastrophe that will plunge the world into a state of devistation for years to come. After mysteriously having been transported out of Pac-Village and into this strange and different land, it is up to Pac-Man to uncover Erwin's plot and save the world. Along the way, Pac-Man will meet a host of unexpected "old friends," and in order to defeat the ultimate enemy, he might just have to turn his old foes into allies! While combining contemporary platform game mechanics with traditional Pac-Man play principles, Pac-Man World 3 features Pac-Man staples including Power Pellets, Pac-Dots, Pac-Chains and fruit while adding new elements such as a Pactrometer, power-up smoothies and several new special moves. Players will even get to play as Pinky and Clyde, who each have distinctive special abilities. [Namco]
| | |
| --- | --- |
| Rating: | E |
| Developer: | Blitz Games |
| Genre(s): | Action, Platformer, Platformer, 3D, 3D |
| Number of Players: | 1-4 Players |
| ESRB Descriptors: | Cartoon Violence |
| Connectivity: | Wi-Fi |
| Number of Online Players: | 24 Players Online |
Designer/Producer/Programmer credits provided by
GameFAQs
.
If you contributed to this game and feel you should be credited, please read our
FAQ
.
| | |
| --- | --- |
| 59 | |
| 69 | #69 Most Discussed PSP Game of 2005 |