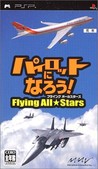 Summary:

(Currently available in the UK/EU only) Beginning with a selection of training exercises to familiarise yourself with the controls, the game then moves straight into a series of increasingly challenging missions. Boasting a wide range of aircraft from all generations, Pilot Academy gives yo

u the opportunity to fly the Boeing 747, Concorde, Airbus A380, Spitfire, F117, A10 Tank buster and Sukhoi Su-26 amongst many others. Up to eight players will be able to take part in four different multiplayer games with the 'Deathmatch' mode available to any PSP owner whether they own a copy of the game or not. [Rising Star Games]

…

Expand
Developer:

Kuju Entertainment

Genre(s):

Combat Sims

Cheats:

On GameFAQs
A beautifully realised flight sim for the PSP that will take a lot of practice to master.

It's a game that will satisfy only masochists and super-skilled PSP pilots. [Nov 2006, p.87]

A decent spread of planes and challenges but sadly Pilot Academy's wings are clipped by a lack of personality. [Nov 2006, p.104]

In fact, if, like me, you find yourself the victim of a game-breaking glitch, which requires you to hold down the SELECT button the whole time you're in the air, you'll definitely be disappointed.