Publisher:

Crave

Release Date:

Dec 6, 2005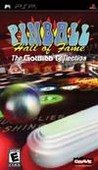 Summary:
Relive the days when the pinball table was king, but play like you have unlimited quarters. Pinball Hall of Fame resurrects seven of Gottlieb's greatest pinball machines spanning the 60 years of arcade pinball's golden age. Recreated in a stunning 3-D environment, the game play, visuals and sound effects are so authentic, you'll feel like you're in a real arcade. You can choose from such classic tables as Ace High, Central Park, Big Shot, Genie, Black Hole, Victory, and Tee'd Off from the 50s, 60s, 70s, 80s and 90s. Historical art, fun facts and an unlockable bonus table. Bonus arcade novelty games for even more old-school fun. [Crave Entertainment]
| | |
| --- | --- |
| Rating: | E |
| Developer: | Farsight Studios |
| Genre(s): | Miscellaneous |
| Number of Players: | 1-4 Players |
| ESRB Descriptors: | Mild Suggestive Themes |
| License: | Other |
| Connectivity: | Wi-Fi |
Designer/Producer/Programmer credits provided by
GameFAQs
.
If you contributed to this game and feel you should be credited, please read our
FAQ
.
| | |
| --- | --- |
| | |
| | #47 Most Discussed PSP Game of 2005 |