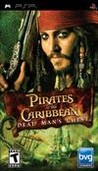 Summary:

Players will be able to play as Captain Jack Sparrow, Will Turner and Elizabeth Swann as they explore and brawl across land and sea on a memorable quest in search of the legendary Dead Man's Chest. The game features thrilling moments from the movie and expands the fantasy of the franchise by

Players will be able to play as Captain Jack Sparrow, Will Turner and Elizabeth Swann as they explore and brawl across land and sea on a memorable quest in search of the legendary Dead Man's Chest. The game features thrilling moments from the movie and expands the fantasy of the franchise by offering exciting new adventures and locations inspired by the rich "Pirates of the Caribbean" universe. [Buena Vista Games]

…

Expand
Developer:

Griptonite Games

Genre(s):

Action Adventure

# of players:

1-4

Cheats:

On GameFAQs

Rating:

T
One of the few film-based games I have not been able to put down. A love for the films aside, this game is excellent and despite its one or two faults (basic enemies, and occasionally sluggish frame rates) it is certainly one you will have to play.

Despite the wacky camera and the must-have-at-all-costs treasures, Pirates of the Caribbean: Dean Man's Chest is a game worthy of a few stolen hours while sitting on a deck sunning yourself as you listen to the waves roll by.

While the sword-slashing provies a bit of fun, glitchy graphics and repetitive action sever any lasting appeal. [Sept 2006, p.68]

Official U.S. Playstation Magazine

Ultimately, it's a good, pirate-heavy distraction but, thanks to the game's repetitiveness, it won't do much to keep your attention past the first few levels. [Oct. 2006, p.91]

You should be able to beat the game in an afternoon. [Oct 2006, p.84]

The repetition of the combat means that sore thumbs – and an underused brain – are the main enemy of Dead Man's Chest.

You'll hope developers like Amaze don't go within 100 miles of a movie license ever again, and pray that BVG has the good sense to try harder next time. Consider yourself warned.
The multiplayer portion of this game is absolutely fantastic! The action is fast paced and "Plunder the Flag" is incredibly fun with four

The multiplayer portion of this game is absolutely fantastic! The action is fast paced and "Plunder the Flag" is incredibly fun with four players. The full game works over gameshare, so you can play a four player game with only one copy of the game! (IF you can find 3 other people with PSPs) The single player is good, too, with challenging puzzles and Johnny Depp really shines through in the voice acting. The enemies were unique and offer a glimpse into what the movie will have to offer, and the end boss battle was awesome! The graphics work really well for the game and you find yourself getting emerged in the game play a lot.

…

Expand

Pirates of the Caribbean (POTC) for the PSP is a great game. I found the graphics for the game beautiful; it

A suprisingly fun game, it's not very deep, but tons of fun. definetaly worth a purches now that it's price is so low thanks to at

A suprisingly fun game, it's not very deep, but tons of fun. definetaly worth a purches now that it's price is so low thanks to at worlds end.

…

Expand

Well, since I am a great fan of the movie "Pirates Of The Caribbean" ( from mow on POTC ), news of the PSP game set in the universe of the

Well, since I am a great fan of the movie "Pirates Of The Caribbean" ( from mow on POTC ), news of the PSP game set in the universe of the POTC made me extatic. But not for long... Dead Man's Chest feels very much unfinished. Why? Well, first of all, you can see through textures, camera is not precise and it sticks every time in a corner where you can't see the horde of enemies coming to you, every enemy, from pirates to natives, fights absolutely the same, graphics could be better, although they are a bit on the colorful side, and the only bright spot is Jack Sparrow himself ( Voiceover and animation ). Voiceovers are great, but only of the main characters, others are repetitive beyond normal standards. This game just goes to prove that games made by movies suck, albeit few others. Oh, I almost forgot, yopu will not see even a scene from the movie because every animation is made with the in game engine. In conclusion, there are many other games out there worth your money, but this one is not. Only for the hardcore fans of the POTC universe.

…

Expand
| | |
| --- | --- |
| | #59 Most Discussed PSP Game of 2006 |