Publisher:

Konami

Release Date:

Nov 14, 2006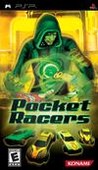 User Score
tbd
No user score yet- Awaiting 3 more ratings
Summary:

Pocket Racers features miniaturised cars whizzing around a series of everyday environments. The player is cast as a spoilt teenager at a party, who is transformed into a toy car by of a vengeful demon. What follows is a frenetic race for survival as the 'Nemesis' demon sets a series of incre

asingly hard challenges within the fully interactive - and destroyable! - play areas. The cars in Pocket Racers represent the soul of the stricken player, and can be augmented through the collection of 'Soul Shards' which litter the play area. Collecting these allows the user to inflict massive damage on rival cars or the debris that clutters the race area, while additional weapons such as nitro boosts, missiles and ice can be used to sneak past opposing racers. These extra weapons are left around the courses, and must be gathered before your opponents get them. The courses themselves range from a messy bedroom, a conveyor belt-laden factory and a kitchen, and feature sneaky short cuts and hidden extras for the player to find. Pocket Racers also features a number of vehicle styles that are ideally suited to the varying locations. Sports cars, trucks, 4x4s and Coupes vie for the player's attention, while other hidden vehicles can also be unlocked. [Konami]

…

Expand
Developer:

Konami

Genre(s):

Racing

# of players:

6 Online

Cheats:

On GameFAQs

Rating:

E
Kids with no expectations might find it thrilling, but if they've already played a couple of racers for PSP, the likelihood of Pocket Racers holding their interest has shrunk.

If you like mediocrity and stupid storylines, this game is definitely for you.

Pocket Racers was made for the holiday rush as a cheap, new game that could be shoveled out to parents, resulting in sad kids who have just become victims of the shovelware industry yet again.