Publisher:

Konami

Release Date:

Nov 14, 2006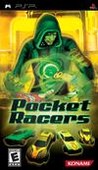 Summary:

Pocket Racers features miniaturised cars whizzing around a series of everyday environments. The player is cast as a spoilt teenager at a party, who is transformed into a toy car by of a vengeful demon. What follows is a frenetic race for survival as the 'Nemesis' demon sets a series of

Pocket Racers features miniaturised cars whizzing around a series of everyday environments. The player is cast as a spoilt teenager at a party, who is transformed into a toy car by of a vengeful demon. What follows is a frenetic race for survival as the 'Nemesis' demon sets a series of increasingly hard challenges within the fully interactive - and destroyable! - play areas. The cars in Pocket Racers represent the soul of the stricken player, and can be augmented through the collection of 'Soul Shards' which litter the play area. Collecting these allows the user to inflict massive damage on rival cars or the debris that clutters the race area, while additional weapons such as nitro boosts, missiles and ice can be used to sneak past opposing racers. These extra weapons are left around the courses, and must be gathered before your opponents get them. The courses themselves range from a messy bedroom, a conveyor belt-laden factory and a kitchen, and feature sneaky short cuts and hidden extras for the player to find. Pocket Racers also features a number of vehicle styles that are ideally suited to the varying locations. Sports cars, trucks, 4x4s and Coupes vie for the player's attention, while other hidden vehicles can also be unlocked. [Konami]

…

Expand

Developer:

Konami

Genre(s):

Arcade

# of players:

6 Online

Cheats:

On GameFAQs

Rating:

E
Kids with no expectations might find it thrilling, but if they've already played a couple of racers for PSP, the likelihood of Pocket Racers holding their interest has shrunk.

A decent racer that doesn't really do anything different enough to warrant passing on any of the quality racing experiences that the PSP offers.

This storyline is strange and is not developed during the game at all. They should never have put a storyline in the game.

Pocket Racer[s] screams budget title in every way. The gameplay is generic even by mid-'90s standards, the graphics are bland, and the sound will leave you wanting a lot more.

Online minigames and a decent selection of cars don't save Pocket Racers from being one of the worst rubber-burners on Sony's portable system.

Even at a low price point, fans are better off avoiding this one.