Publisher:

D3

Release Date:

Jan 10, 2006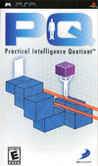 User Score
tbd
No user score yet- Awaiting 1 more rating
Summary:

(Also known as "Intelligent License") Based upon psychological research, your PQ score will be determined by how quickly and effectively you solve each life-like situation. Test your wits, bend your brain, and match wits with the minds of users worldwide. A 3D puzzle game that tests players

problem solving skills, PQ uses the PSP system's Infrastructure Mode and allows players to post their PQ score on the worldwide ranking site to see how they rank against other players around the world. [D3 Publisher]

…

Expand
Developer:

Now Production

Genre(s):

Puzzle

# of players:

1 Player

Cheats:

On GameFAQs

Rating:

E
The surprising thing is that while it may sound like a bad afternoon in school, the game is actually astonishingly addictive. [Mar 2006, p.96]

PQ: Practical Intelligence Quotient isn't a great tool for any real standardized measurement of how brainy a person is, but it is a very well done variant on the puzzle genre.

Those looking for a deep, involving puzzle game will find it in PQ: Practical Intelligence Quotient. There are a good number of puzzles, most of which offer enough of a challenge to engage puzzle nuts without distancing novices.

PQ doesn't fare well when compared with the likes of "Lumines," chess or crosswords -- or even Sudoku, the new grid in town. By those standards, PQ is a pretty poor relation in the family of cerebral games.
it's awesome or as i like it wicked sick.

Well if you want test your self before going to employ interview its a good option.