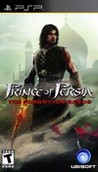 Summary:

Prince of Persia: The Forgotten Sands is the next chapter in the Sands of Time universe. Visiting his brother's kingdom following his adventure in Azad, the Prince finds the royal palace under siege from a mighty army bent on its destruction. When the decision is made to use the ancient

Prince of Persia: The Forgotten Sands is the next chapter in the Sands of Time universe. Visiting his brother's kingdom following his adventure in Azad, the Prince finds the royal palace under siege from a mighty army bent on its destruction. When the decision is made to use the ancient power of the Sand in a desperate gamble to save the kingdom from total annihilation, the Prince embarks on an epic adventure in which he learns to bear the mantle of true leadership, and discover that great power often comes with a great cost. [Ubisoft]

…

Collapse

Developer:

Ubisoft Quebec

Genre(s):

Fantasy

Cheats:

On GameFAQs

Rating:

T
Thanks to its numerous and brilliant puzzles, Prince Of Persia: The Forgotten Sands in its PSP version stands as a great homage to the classic game by Jordan Mechner. Unfortunately some situations suffer from the sometimes unresponsive controls, that make Ubisoft's last effort more "hardcore" than it really is. Definitely a brief but intense experience.

The return of the Prince to PSP is good, although controls may turn down some, and maybe it lacks some depth in its proposal.

It goes back to the side-scrolling roots of the Prince of Persia series. It has a high degree of difficulty but it's well presented and quite enjoyable if you liked the old PoP-games.

Despite it's clumsy combat system, The Forgotten Sands delivers a nice experience on PSP.

The well-designed levels in The Forgotten Sands do a good job of sucking you into this 2D world, but minor control issues and lame combat distract from the fun.

Aside from the disappointing revelation toward the end of the game, Prince of Persia is a solid experience on the PSP. It expertly treads the line between giving us a taste of what exists on the consoles and offering unique and challenging gameplay that is suited to the handheld. If not for the sloppy missteps, I would say that the Forgotten Sands would be a worthy addition to anyone's PSP library.
A way better than it's PC bro... At least the story can be connected to the POP-trilogy easier for sure.
And gameplay is very interesting...A way better than it's PC bro... At least the story can be connected to the POP-trilogy easier for sure.
And gameplay is very interesting... And to sum up - one of the best graphics on PSP.

…

Expand