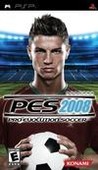 Summary:

PES 2008 features a brand new intelligence system, called Teamvision, that adapts and reacts to players own gameplay styles to ensure that the computer controlled opponents are always challenging and forcing the player to think and chance their style of play to avoid being out-thought by the

PES 2008 features a brand new intelligence system, called Teamvision, that adapts and reacts to players own gameplay styles to ensure that the computer controlled opponents are always challenging and forcing the player to think and chance their style of play to avoid being out-thought by the game. It learns counter attacks that target your weaknesses and look to exploit any repetitive tactics players use. Defenders react better to danger, closing down the ball and charging at shots and the goalkeepers hold shots that are closer to them as well. Teammates make more intelligent runs into space and the close control has been sharpened to ensure quick and fluid passing and speedy attacks can be built. The next gen versions also feature extensive edit modes so players can completely customise their PES 2008 experience. [Konami]

…

Expand

Developer:

Konami

Genre(s):

Sim

# of players:

2 Online

Cheats:

On GameFAQs

Rating:

E
Pro Evolution Soccer 2008 is arguably the best football game to own for your PSP (or any system for that matter).

A bona-fide PES game on the PSP, PES 2008 admittedly only takes small steps from last year's title, but it takes all the right ones.

A very impressive soccer game, mainly because it mimics the console versions so well. While it would have been nice to see a few specialized PSP mini-games, the fact that we can play through years in Master League with a created player and watch him develop is cool enough.

Seen on its whole, PES 2008 has all the virtues of the series, managing to be fun and thrilling. However, as a new edition, it's far from essential.

What it lacks in authenticity, it makes up for in gameplay. Arguably the best football game on the system - once you've mastered the basics.

It's competent, it's fun, it's certainly good - but unless the PS2 to PSP transfer stuff tugs your whistle, it's not easy to justify the upgrade.

It certainly provides a fun portable footballing experience with regards to the actual simulation, but there is still a lot of room for improvement, and I feel that the PSP is still not being used to its full capacity.
As always greatest portable futbol experience.

Simply must own for every futbol fan.

By far the best PES on the PSP, but it's still not the perfect conversion of the PS2 version, and I'm not talking about the graphics

By far the best PES on the PSP, but it's still not the perfect conversion of the PS2 version, and I'm not talking about the graphics nor the controls...
There are also from time to time some kind of "lag" during wireless games that completely screws the game.
Also, the games lacks a true training mode, but fortunately, the master league mode is here and it's absolutely fantastic.

…

Expand

Fun sometimes, but more often it is just too frustrating to play for more than an hour. Stick to the 'console' version.

This game COULD be so great... with the help of a single patch you can bring your whole football world to a up to date state, the graphics

This game COULD be so great... with the help of a single patch you can bring your whole football world to a up to date state, the graphics are great... BUT: This game cheats. Constantly. Your players work completely differently then the AI ones. There are "phases" when it's simply impossible to stop an AI player without committing a yellow card foul. The players both on the offense and the defense position themselves totally different for you or the AI (just try playing against a team, you just controlled leaving the default settings for this team on... You'll see what I mean) - The AI has always up to 7,8 players in the box while your sorry defense line waits to be broken somewhere between the middle line and the 16m... It could be great but is simply frustrating. Sure, you can learn how to beat the AI, but it's not because you play it as a football game on the same terms, it's because you learn to dribble in circles forever until you get an opening on goal etc... I call this meta-gaming and it's not what I want to get.

…

Collapse