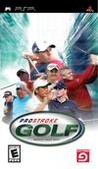 Summary:

Step up to the tee and take on the pros in this year's only real-world golf simulation. Craft your technique, groove your swing, feel the pressure, compete and become a champion. ProStroke Golf is a faithful adaptation of the world's most challenging sport; including licensed players and

commentary from the international voices of golf. Put yourself to the ultimate test - challenge your skill, stamina and mental agility as you take on the best in the world. Control your nerves, feel the power of your drive, stare victory in the face and hear the crowd adore you. Licensed players: Sergio Garcia, Justin Rose, Colin Montgomerie, Ben Curtis, Zhang Lian Wei, and more...TV commentators : Sam Torrance, Ian Baker Finch and Alan Green. Courses include The Brabazon at The Belfry and Lake Nona. Innovative 'ProStroke' controls allow you to groove your own swing – just like the Pros do. Game Modes; From Match Play to Multiplayer through to training exercises and a comprehensive career mode, as well as short scorecard challenges. Caddy Feature offering Golf Pro Training exercises. Course and Tournament creator, allowing you to design and develop your own courses. [Oxygen Interactive]

…

Expand

Developer:

Gusto Games

Genre(s):

Sim

# of players:

2 Online

Cheats:

On GameFAQs

Rating:

E
The fluid and intuitive controls provide a refreshing change of pace, and a great level of challenge. The graphics are well above par for the PSP, and the addition of course creation modes and online play should definitely keep you coming back for more.

ProStroke Golf continues to offer an alternative to EA's gargantuan golfing franchise, even on the PSP, though the decision to drop the first-person perspective when lining up a shot, and the PSP's single-nipple disability, does bring the gameplay gap between the two a tad closer.

A solid, respectable golf game that should keep pros and amateurs happily stroking in public for hours. [Jan 2007, p.93]

Overall, Prostroke Golf: World Tour 2007 isn't a bad game, although it's below average when it comes to golf. It gets so caught up in trying to faithfully recreate the sport that it forgets what it means to have fun in a portable video game.

Overall ProStroke Golf is like an afternoon spent at an old muni course. You can have some fun with it but overall it's bland and functional.

ProStroke in a nutshell: A devoted wannabe who shows potential - and who certain golf nuts will probably applaud - but who needs to keep polishing his fundamentals before he can take one from the sport's seasoned pros.

As a one player game it's filled to the brim with awkward controls and badly conceived gameplay, as a multiplayer title you may be able to convince a friend to take part in a few rounds, but don't expect them to thank you for it afterwards.