Publisher:

SCEA

Release Date:

Mar 7, 2006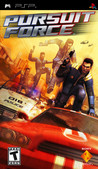 Summary:

Pursuit Force is a driving/combat game that gives you the unique ability to jump between and fight on vehicles. The game follows the adventures of a rookie Police Officer working for Pursuit Force - an elite, vehicle-based crime fighting force chasing down criminal gangs across an entire

Pursuit Force is a driving/combat game that gives you the unique ability to jump between and fight on vehicles. The game follows the adventures of a rookie Police Officer working for Pursuit Force - an elite, vehicle-based crime fighting force chasing down criminal gangs across an entire fictional US state. Engage in deadly gun battles whilst chasing the criminals at top speed. Powerslide round corners, drive the wrong way thorugh traffic and push your vehicle to the max as you ride the enemies' customised cars with bullets. [BigBig]

…

Expand

Developer:

Bigbig Studios

Genre(s):

Car Combat

# of players:

1 Player

Cheats:

On GameFAQs

Rating:

T
Nearly perfect with its graphics that often look close to cinematic scenes and a whole host of strategies for nailing the bad guys.

The game looks fantastic, controls like a dream and is brilliantly paced, elements that add up to a "must buy" in my book.

If you like arcade action that obviously isn't overly complex but is a lot of fun to play, then give Pursuit Force a try. I think it is a game that will really surprise people.

Pursuit Force isn't an incredibly unique experience, but it is a lot of fun.

Despite some thrills in the early going and the novelty of encountering new gangs, Pursuit Force depends too heavily on the clock to maintain excitement, eventually becoming a casualty of its own simplicity.

A unique release in the sense that it could be a stepping-stone to bigger and better things. There is no reason Bigbig couldn't flesh out what they have created already and release a console version.

You should buy this game only if you like stabbing your hands with bits of glass like Batman does in Arkham Asylum. Either that, or you're fairly confident the PSP's build quality will ensure it surviving forehead-screen interface.
amazing game everything is cool the gameplay the graphics but its very hard

Really really good game, lots of variety, intense action and a very cool setting and colourful characters Hope a sequel is on the way!

This game is freakin` awesome its sounds and graphics are insane. I hope they make a second one i would be first in line to buy it.

This game contains awesome graphic, excellent concepts (jumping from car to bike to helicopter), great sound, but lacks in the game play. The

This game contains awesome graphic, excellent concepts (jumping from car to bike to helicopter), great sound, but lacks in the game play. The levels are very difficult from the beginning and I would be surprised if the average user will be able to complete the entire game. The game lacks check points with the different locations with a level. I have found that after 60 minutes of playing the game I needed a cheat to proceed any further.

…

Expand

Actually pretty fun at times. If you're expecting a realistic police simulator (I don't know why you would)
DON'T BUY THIS And I'll tell youActually pretty fun at times. If you're expecting a realistic police simulator (I don't know why you would)
DON'T BUY THIS And I'll tell you why eventually. If you want a police game where you are part badass, maybe. In this game you play as a police that murders EVERYTHING DAMN thing HE COMES IN CONTACT WITH (not civilians and other good people). I know the idea of killing every damn thing that is BAD around you is strange mixed with the concept that this game is about REMOVING CRIME. But this game is this game, and it is pretty damn strange.

…

Expand

A fairly disapointing game. the first 60 min were exciting after that its the same thing over and over.

This game is dreadful! Please save yourselves from this 'on rails' driving nightmare. I spent a week repeating long levels, chasing

This game is dreadful! Please save yourselves from this 'on rails' driving nightmare. I spent a week repeating long levels, chasing cars which I could see clearly and having the screen saying 'you're losing them' and worst of all jumping between cars and bikes shooting people though windscreens only to find that because I had already been shooting at the car it would explode two seconds later. An utter waste of time.

…

Expand