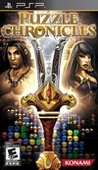 Summary:
Enter the dark and savage lands of the Ashurin Empire as you battle to avenge the atrocities the Empire brought upon your tribesmen. On your challenging quest you will fight fierce beasts and battle hardened warriors with a new puzzle combat mechanics that will test your skills. This new puzzle combat system is based on real time action so players will have to think fast and posses sound strategies to best their opponents. [Konami]
Designer/Producer/Programmer credits provided by
GameFAQs
.
If you contributed to this game and feel you should be credited, please read our
FAQ
.