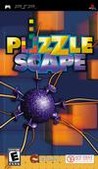 Summary:

Players arrange blocks of different colors into chains that are exploded by 2x2 same colored blocks. Eliminating the blocks creates level-ups and the player can gather a variety of power-ups by creating long chains. Level-ups introduce new elements into visually amazing background landscapes

. Game mode defines the rules of the game. In architect mode, the player tries to build objectives as fast as possible, and in artist mode, the goal is to play for survival and high score. In artist mode, the scenery is built according to how gamers play Puzzle Scape, while the architect mode has pre-defined objectives. There are four different themes: cells, flowers, machines and dreams. Both single player-modes can be played in cooperation or in Duel mode over wireless connection. Puzzle Scape also features up to eight-player multiplayer fun in Bomb Run mode, where each player plays the same scene trying to be the first to destroy enough blocks to win the game. In addition, Puzzle Scape enables players to send the demo of the game to a friend. [O3 Entertainment]

…

Expand
Developer:

Farmind Ltd

Genre(s):

Puzzle

# of players:

1-8

Cheats:

On GameFAQs

Rating:

E
As good as a derivative puzzler can be. Puzzle Scape won't make you forget Lumines or Tetris, but it will offer enough variety to find a spot in your PSP puzzle game starting rotation.

The music is better than your average electronic fare, and an engaging visual style will keep your eyes from getting bored. It lacks that addictive quality that is present in all great puzzle games, however.

Puzzle Scape isn't terribly original in either concept or presentation, but it's enough like the great games it's copying to be well worthwhile.

Puzzle Scape is not a great game, but is a game that should be purchased by enthusiasts only.

Puzzle Scape seems to try too hard at imitating other games, especially Lumines with its addictive gamplay.

It's not an awful game. It's just utterly inferior to Lumines and costs just as much. What's the point?
Good fun! I played both Lumines games so long that my fingertips blead, but you grow tired playing the same game over and over again. Puzzles

cape provides good continuation to people who enjoyed Tetris Attack and Lumines and similar games. Music was great and I did enjoy the non-music-video backgrounds!

…

Expand