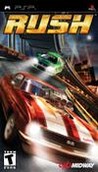 Summary:

(Known as "L.A. Rush" in the UK/EU) For the first time on the PSP system, attempt mad jumps, high-flying stunts and arcade-style racing from the newest entry in the RUSH franchise. Go head-to-head with a friend in a street race or cruise mission using wireless functionality, or experience

(Known as "L.A. Rush" in the UK/EU) For the first time on the PSP system, attempt mad jumps, high-flying stunts and arcade-style racing from the newest entry in the RUSH franchise. Go head-to-head with a friend in a street race or cruise mission using wireless functionality, or experience Story Mode which allows you to race through five Los Angeles city re-creations while finding treacherous shortcuts and surviving death-defying jumps. Exclusive to the PSP system is an all-new Stunt Arena, where players can fly over ramps and perform stunts in the air and drive the loop-de-loop to gain massive bursts of speed, all the while collecting golden tokens to unlock extra content. Feel the rush as you race more than 36 licensed rides including muscles, tuner and exotic vehicles. [Midway]

…

Expand

Developer:

Midway Studios - Newcastle

Genre(s):

Arcade

# of players:

1-4

Cheats:

On GameFAQs

Rating:

T
It's a fun game and the graphics are far from - ahem - wack, with impressive detail (especially the funfair on the pier), destructible scenery and progressive vehicle damage, all in solid, smooth 3D. [Jan 2007, p.83]

The vehicles aren't nearly as customizable as in "Midnight Club 3: DUB Edition" or as destructive as in "Twisted Metal: Head-On," but, thanks mostly to the multiplayer and extra single-player modes, Rush provides several days of enjoyable arcade style racing.

In truth, I honestly believe that a traditional Rush game, marketed at a low price-point, would have probably sold better than this strictly par street racing release.

The open-ended world felt entirely tacked on and unnecessary, and the inclusion of classic modes was little more than a poorly veiled concession to fans of the older games.

Series fans may enjoy the returning stunt mode and the local wi-fi multiplayer, but Rush is too uneven to really recommend. [Feb. 2007, p.83]

A reasonable game but its lack of challenge and enticement makes it fall far behind the pack.

The decision to reinvent it as an urban street racer wasn't a smart one. The gangsta-ization of things ends up giving PSP owners a forgettable gaming concept and gameplay that's only memorable for its rough spots.