Publisher:

Atlus

Release Date:

Sep 20, 2011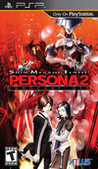 Summary:
Over 12 years in the making, the official localization of Innocent Sin provides patient fans with the other side of the Persona 2 arc, a dark adventure about high school students who find their reality being twisted by rumors, and who must draw on their inner strengths, their Personas, to bring back order. Taking advantage of PSP system's 16:9 aspect ratio, higher resolution display, superior audio, and increased horsepower, this remastered version of one of the pinnacles of ATLUS' flagship Shin Megami Tensei franchise delivers the game in style with a sleek new interface, new sidequests in the Climax Theater, and the player's choice of the fully remixed or original soundtrack.

| | |
| --- | --- |
| Rating: | T |
| Official Site: | http://www.atlus.com/persona2 |
| Developer: | ITL |
| Genre(s): | Console-style RPG |
| ESRB Descriptors: | Drug Reference, Language, Mild Blood, Sexual Themes, Simulated Gambling, Violence |
Designer/Producer/Programmer credits provided by
GameFAQs
.
If you contributed to this game and feel you should be credited, please read our
FAQ
.