Publisher:

Atlus

Release Date:

Sep 20, 2011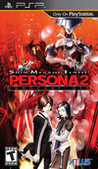 Summary:

Over 12 years in the making, the official localization of Innocent Sin provides patient fans with the other side of the Persona 2 arc, a dark adventure about high school students who find their reality being twisted by rumors, and who must draw on their inner strengths, their Personas, to

Over 12 years in the making, the official localization of Innocent Sin provides patient fans with the other side of the Persona 2 arc, a dark adventure about high school students who find their reality being twisted by rumors, and who must draw on their inner strengths, their Personas, to bring back order. Taking advantage of PSP system's 16:9 aspect ratio, higher resolution display, superior audio, and increased horsepower, this remastered version of one of the pinnacles of ATLUS' flagship Shin Megami Tensei franchise delivers the game in style with a sleek new interface, new sidequests in the Climax Theater, and the player's choice of the fully remixed or original soundtrack.

…

Expand
Developer:

ITL

Genre(s):

Role-Playing

,

Console-style RPG

,

Console-style RPG

,

Japanese-Style

Cheats:

On GameFAQs

Rating:

T
Please enter your birth date to watch this video:
You are not allowed to view this material at this time.
Shin Megami Tensei: Persona 2 - Innocent Sin: Teaser Trailer
Over the past year or so the PSP has really seen a surge in awesome role playing games, and Persona 2 is no exception.

It is a nice and solid remake of a good game in an amazing series. The graphics may be a bit disappointing and the story takes a little to really take off, but then the game is simply fantastic. RPG fans will fall in love with the great story and its orchestration. Though not as good as its successor, Persona 2 has a unique game play, including the spreading of rumors and negotiation with demons, and a great variety of personas to be summoned. If you love classic RPGs, you should order the game today and dive into the world of Sumaru City.

Shin Mega Tensei: Persona 2 Innocent Sin is an enjoyable title for series' fans that patiently waited all these years to complete their Persona 2 experience. The game doesn't stray far from its predecessor and the gameplay feels a bit stale compared to similar titles today, but it's still a worthwhile addition to any PSP owner's library of RPG games.

It's a game suited for the brand's lovers, and for JRPGs true aficionados. Some freshness could improve its reach, let's hope in the next chapters.

Games Master UK

Dec 17, 2011

Old school JRPG with a few unique twists, strictly for genre fans. [Jan 2012, p.94]

P2, while a good game, is very much a product of its time. Players were more willing to overlook a lot of the JRPG's stereotypical frustrations and foibles back in the late 90s and early aughts. With shifts in consumer tastes and the desire for fresher experiences, however, a brand new game structured like P2 -- with its somewhat clunky story presentation and traditional, slow-paced progression -- simply wouldn't fly in the marketplace either in Japan or abroad.

More than 10 years after its original release, Persona 2: Innocent Sin no longer has the magic it once did.
Persona 2 - Innocent Sin has a fantastic story and characters. However, the gameplay is extremely dated and archaic. Because this is a remake,

Persona 2 - Innocent Sin has a fantastic story and characters. However, the gameplay is extremely dated and archaic. Because this is a remake, Atlus keeping the gameplay largely the same is justified and doesn't factor into my score.

…

Expand

Simply put, the best persona game ever made, better then eternal punishment. better then persona 3 or 4, and better then the first one.

Simply put, the best persona game ever made, better then eternal punishment. better then persona 3 or 4, and better then the first one. Amazing music (There's a remade soundtrack but the original is better), AMAZING characters, this game probably has the best characters in any persona game, the persona 2 duology is the peek of the persona series, BUY THIS!

…

Expand

This game is fantastic, from the amazing story, to the colorful characters, to the obviously dated but still fun gameplay. This game stands as

This game is fantastic, from the amazing story, to the colorful characters, to the obviously dated but still fun gameplay. This game stands as a gem in the PSP's library, and is a fantastic entry in the Persona series. The story completely pulled me in, there was just something gripping and amazing about this game. Another thing that I loved about this game is it's soundtrack. This game has an amazing....AMAZING soundtrack!

Overall this game gets a 9.5/10, amazing story and soundtrack, though the gameplay does hold it back a little bit.

…

Expand

The best Persona game.

You'll probably get sick of the frequent random encounters even if you don't have a thing against random encounters,The best Persona game.

You'll probably get sick of the frequent random encounters even if you don't have a thing against random encounters, but the goofy storyline (if only Hitler wasn't there to kill the mood) and great characters (best in the series) pull it through. You'll likely put the game down for a few days or so every few days or so because you'll be burned out on random encounters, but as long as you don't power through it it's a great experience.

…

Expand

It's great. A bit different from 3 & 4 (I assume most people will be moving backwards from there). It draws on the earlier non-persona entries

It's great. A bit different from 3 & 4 (I assume most people will be moving backwards from there). It draws on the earlier non-persona entries where you "talk" with the creatures if you so choose. It also doesn't have the day by day high school sim thing. The story and characters are fantastic. Everyone seems to say the gameplay is dated but I love it; classic turned based. I will say that it's way too easy though. Even on the hardest difficulty setting. It has the same Shoji Meguro as the composer, and it gives the in-game option to change between the original score and more modern scores.

…

Expand

About I don't know say 11 or so years later Innocent Sin finally graces our shores in a form other than a fan translation. While it isn't as

About I don't know say 11 or so years later Innocent Sin finally graces our shores in a form other than a fan translation. While it isn't as polished as Persona 3 & 4 it stands up well on it's own. It's a good thing that a game made in 90's has more of a soul than most triple A games today. The battle system has been made easier, fusion spells are easier to do and easier to to contact demons slightly. That being said the fusion system this game is not as useful as it would prove to be in later games. You can beat the entire game with the main persona you get at the beginning of the game and use nothing but and you'll be fine at least on easy mode. Also some of the translations seem off but I've seen the entity of the fan translation online so it's not a big deal. The new theater mode is neat too offering three interesting side quests, and yes while the quest make was not added to the North American version I don't that's a big deal though some are mad about it. Story wise this game is great though it gets bogged by the annoying high encounter rate. Though there is meter and on screen map that will flat out tell you when monster showdowns will occur and the high encounter rate often means you won't have to level grind for the most part, though the battles can interrupt the flow of the story and it's also easy to miss certain things. The voice acting has improved from the 90's compared to Eternal Punishment. Though in the Persona 2 saga the silent protagonist makes little sense since the main character IS NOT a blank slate. But that's a little annoyance Persona 2 is still a very solid game.

…

Expand

This was the very first persona game that I played. I actually like it despite the dated graphics and slow gameplay.

The story is engagingThis was the very first persona game that I played. I actually like it despite the dated graphics and slow gameplay.

The story is engaging and thrilling within is a cast of enjoyable characters. You also will get to listen to lovely soundtracks.

What made me think of continuing this game though were a lot of factors: high battle rate, sluggish gameplay, date graphics and FMVs, mediocre voice overs, and the lack of New Game+!

This game would have truly paralled Persona 3 and 4 if the gameplay and graphics were remade 'cause the story is just plain awesome.

…

Expand
| | |
| --- | --- |
| 13 | |
| 6 | #6 Most Discussed PSP Game of 2011 |
| 8 | #8 Most Shared PSP Game of 2011 |