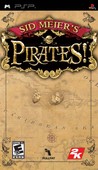 Summary:

In Sid Meier's Pirates!, a strategy/adventure game, players take the role of a Pirate Captain in the 17th century Caribbean – amassing fortune and fame in an attempt to seize a rightful place as one of the most revered and feared pirates in history. Players test their skills as a sea captain

exploring the high seas and dueling in land and sea battles in a richly detailed 3D world. Additional features for the PSP system include wireless Ad-Hoc multiplayer for up to four players, widescreen graphics, new treasure hunts and more. [2K Games]

…

Expand

Developer:

Full Fat

Genre(s):

Real-Time Strategy

# of players:

1-4

Cheats:

On GameFAQs

Rating:

E10+
Sid Meier's Pirates! is able to be played for just a few mintues or hours at a time. Your PSP will thank you.

Everything that makes Pirates! what it is is here and in fantastic form. The most important elements, like ship battles, exploration and such are identical to what you 'd find on the PC, which is really what matters.

The combination of varied mini-games, relatively short and highly replayable campaigns, a save anywhere feature and an addictive 4-player ship battling mode make it a near-perfect fit for the system.

There's loads to do, and if you've enough mates there's a four-player Wi-Fi mode to get to grips with as well. [Apr 2007, p.87]

What makes Sid Meier's Pirates! a game that every PSP owner should at least seriously consider purchasing is its sheer depth and replay value.

Pirates offers the same great mix of addictive minigames to which we sea dogs have grown accustomed.

A charming, refreshing change of pace for all PSP owners.
I have bought and sold this game several times (usually after watching a Pirates of the Caribean movie.) It is fun to roam the open sea's

hunting for ships to attack and treasure to dig up. It is an interesting open world environment with ports to explore and ships to capture. It is fun building your fleet and pimping out your ships but I found that the game gets repetitive, I mean how many times do I have to dance with some governors daughter. I think this game has a solid build but I do find that after a few hours I tended to lose interest (hence the buying and selling) but if your looking for a few hours of fun on the high sea's it could be a good pick up for you.

…

Expand