Publisher:

Konami

Release Date:

Nov 6, 2007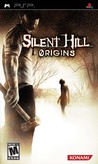 Summary:
Silent Hill Origins tells the tale of a solitary truck driver stuck in the terrifying town while making a routine delivery. New gameplay elements, such as a barricade system that lets players block off rooms from enemies, and an enhanced camera system deliver an added sense of isolation and anxiety in this frightening adventure. [Konami]
Designer/Producer/Programmer credits provided by
GameFAQs
.
If you contributed to this game and feel you should be credited, please read our
FAQ
.
| | |
| --- | --- |
| | |
| | #5 Most Discussed PSP Game of 2007 |
| | #6 Most Shared PSP Game of 2007 |