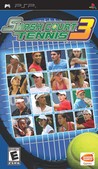 Summary:

It'll be game, set and match as players compete as or against 16 of their favorite Pro-Tennis stars including #1 ranked Roger Federer and 2006 French Open champions Rafael Nadal and Justine Henin. Smash Court Tennis 3 arms players with twice as many customizable items than its predecessor

It'll be game, set and match as players compete as or against 16 of their favorite Pro-Tennis stars including #1 ranked Roger Federer and 2006 French Open champions Rafael Nadal and Justine Henin. Smash Court Tennis 3 arms players with twice as many customizable items than its predecessor including racquets, sportswear and more as they compete to be #1 in the world. Perfect a devastating array of strokes from a selection of top ranked and promising professional tennis stars, each of whom are modeled after their real-life counterparts. Own the court by developing and acquiring new skills such as increasing your hit speed or serve accuracy. Mental elements also play into how characters act and look, so stay focused on your game. Test your skills in various gameplay modes including Arcade, Exhibition, and Pro Tour Mode. Want a quick hiatus from the circuit? Try one of the imaginative and addicting mini games. Smash Court Tennis 3 boasts a game sharing system, where players can go head-to-head with a friend in versus mode using a single UMD. Intensify bragging rights as local rankings add to the fun of wireless play via Ad Hoc mode. [Namco Bandai Games]

…

Expand

Developer:

Namco Bandai Games America

Genre(s):

Tennis

# of players:

1-4

Cheats:

On GameFAQs

Rating:

E
The most accomplished tennis simulation I've ever played, and I really liked VT. That says it all, really.

The pace of things and the more demanding controls in Smash Court Tennis 3 may bum out those expecting more of an arcade tennis experience, but anyone looking for a truer-to-life sim-style take on the sport should definitely check this one out.

It's a bit strange that the best part is found in the mini-games, but SCT3 manages a decent all-around game that, while it won't set anyone's world on fire, won't disappoint the tennis fans either. [Oct 2007, p.62]

Smash Court Tennis 3 is a decent game that plays it safe and doesn't bring much new to table.

If goofy, over-the-top minigames are appealing, then Virtua Tennis is the only game in town. If you happen to take the sport of tennis seriously and want more of a simulation, then Smash Court Tennis 3 fills the bill well enough. The only problem I have with both of these games is their overall refusal to advance the genre beyond what we've seen countless times before.
I prefer this to Virtua Tennis, but that's probably because I already play tennis and have some understanding of how the sport should be

I prefer this to Virtua Tennis, but that's probably because I already play tennis and have some understanding of how the sport should be played. Virtua Tennis is an arcade game, not a tennis simulation. VT used to make me angry because it's the only tennis game in existence where serving (as opposed to returning serve) is a real disadvantage, particularly at higher levels of play. Smash Court is about timing and preparing your shots well in advance of actually making them, and a good serve can put you in a dominating position right from the start. It's tricky, but definitely not "random" as one of the reviews above suggests. If anything, the game does a really good job of not "scripting" the shots the way Virtua Tennis sometimes does. (VT seems to have set patterns for certain situations, this one doesn't ... or at least it seems deeper.) Hey, this game actually has unforced errors, winners, and aces! What happens depends on you. I like the way you gain experience for winning matches and tournaments, and I love the way you can buy special shots with the experience you earn. It means you can progress very quickly and logically, and it means that your experienced player has some nicely tailored weapons and skills. As for cons, I've run into some framerate issues here and there. Nothing to spoil the game, but it could be smoother in spots. I've also turned off the instant replay option because it was repetitive and annoying. And what's with Roger Federer being ranked Number 31 in the world when you play in tour mode? Does this take place, like, 10 years from now? I also wish the ATP or the Grand Slams could be coaxed into endorsing a tennis game so that you got to play in the real venues instead of reasonable facsimiles. Aside from all that, though, I really like it. I found it a much more pleasing game from a tennis fan's perspective.

…

Expand