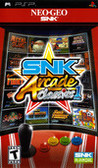 Summary:

ART OF FIGHTING - The first game in SNK's second fighting-game franchise, set in the same universe as FATAL FURY. BASEBALL STARS 2 - The sequel to SNK's popular baseball arcade game. BURNING FIGHT - New York detectives battle organized crime in this fighter. FATAL FURY - First released in

1991, FATAL FURY introduced the two-plane fighting system. KING OF FIGHTERS '94 - The first game in the popular KING OF FIGHTERS series. KING OF THE MONSTERS - In KING OF THE MONSTERS, giant monsters fight for power in epic battles. LAST RESORT - A challenging futuristic shooter. MAGICIAN LORD - Players help the wizard Elta save his homeworld in this platformer. METAL SLUG - Known for its humor and fast- moving gameplay, this run-and-gun side-scroller was the first in the popular series. NEO TURF MASTERS - A golf game which debuted on the Neo Geo Pocket Color in 1999. SAMURAI SHODOWN - Set in the 18th century, SAMURAI SHODOWN features bladed-weapon combat and an international cast of characters. SENGOKU - In SENGOKU, players face off against undead feudal Japanese armies. SHOCK TROOPERS - In this run-and-gun adventure, players save a scientist and his granddaughter from the Bloody Scorpions. SUPER SIDEKICKS 3 - A soccer game featuring teams from all over the world. TOP HUNTER - Bounty hunters protect colonists from space pirates in this futuristic action game. WORLD HEROES - This classic fighter pits players against historical figures in a tournament enabled by time travel. [SNK Playmore USA]

…

Expand

Developer:

Terminal Reality

Genre(s):

Compilation

# of players:

1 Player

Cheats:

On GameFAQs

Rating:

T
Normally in compilations there is one good game and the rest is filler, not the case here, each game is a joy to play, yes the graphics look bad by today's standards but that's not the point, its all about playability and this disc has loads of it.

SNK Arcade Classics Vol. 1 is a solid purchase for players on the go who hope to relive the glory days of the arcades or learn more about the history of their favorite hobby.

It's nice seeing these SNK classics being preserved through these compilations, and it's encouraging that they decided to drop a whopping 16 titles into the first volume without resorting to cheap filler titles.

The PSP version has some loading problems and wonky multiplayer, but gaming on your own is just fine.

If you're a fan of SNK games, it will probably be easy for you to look past the game's quirks and shortcomings. You get a lot of games for your money here.

Decent enough, but most will find them a bit archaic for their tastes. [Mar 2009, p.82]

If you have a soft spot in your heart for any of these old big-cart classics, you'll probably be able to overlook the emulation issues and load times, but some of these early Neo-Geo games don't hold up so well today, so make sure you know what you're getting yourself into before you commit.