Publisher:

SCEA

Release Date:

Nov 7, 2006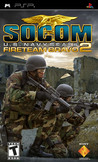 Summary:
Command a secret subset of the most elite and deadly fighting force on the planet as players defend America and her allies through broad combat experiences including new non-linear mission progression, over 40 authentic real world weapons and a huge area of operation spanning multiple terrain types and environments. As the SEAL commander, the player is supported by an AI teammate executing traditional SOCOM team-based tactical, stealth and action gameplay. Multiple players once again be able to form clans and take on their friends for team based high-action gameplay in SOCOM U.S. Navy SEALs: Fireteam Bravo 2 via a Wi-Fi connection. Up to 16 players in close proximity in Ad Hoc mode and online in Infrastructure mode can compete wirelessly through 3 new game types across all new multiplayer maps and original SOCOM U.S. Navy SEALs: Fireteam Bravo maps. Fireteam Bravo 2 is complete with a variety of new gameplay features including new non-linear mission progression, which allows players to choose which mission to tackle next and also provides players with the ability to go back to previous mission areas when enemy activity resurfaces there. Additionally, a new persistent performance rating system tracks the player's success and failure throughout the campaign. By completing mission goals, discovering bonus objectives, and rescuing civilians, the player earns "Command Equity" points that can be used to add new weapons to the armory or purchase in-game air strikes and supply drops. They also increase their "Local Influence" rating, which will give them access to black market weapons and intel from locals. [SCEA]

| | |
| --- | --- |
| Rating: | T |
| Official Site: | http://www.us.playstation.com/Content/OGS/UCUS-98645/Site/ |
| Developer: | Zipper Interactive |
| Genre(s): | Modern |
| Number of Players: | 1-16 Players |
| ESRB Descriptors: | Drug Reference, Violence |
| Connectivity: | Game Sharing, Wi-Fi |
| Special Controllers: | Headset |
| Online Modes: | Competitive |
| Number of Online Players: | 16 Players Online |
Designer/Producer/Programmer credits provided by
GameFAQs
.
If you contributed to this game and feel you should be credited, please read our
FAQ
.