Publisher:

SCEA

Release Date:

Nov 8, 2005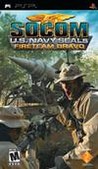 Summary:

SOCOM offers fans of the multi-million selling franchise all-new single-player and wireless multiplayer gaming missions in four different Areas of Operation (AO). Players are tasked with completing 14 unique, realistic international single-player missions, including Chile, which is a unique

AO only available in the PSP release. As the SEAL commander, the player is supported by an AI teammate executing traditional SOCOM team-based tactical, stealth and action gameplay. After successfully completing a level, players can replay the mission in an entirely new way through the "Instant Action" option, with different objectives, enemy and object placement. In addition, multiple players are able to form clans and take on their friends for team based high-action gameplay in SOCOM Fireteam Bravo via a Wi-Fi connection. [SCEA]

…

Collapse
Developer:

Zipper Interactive

Genre(s):

Tactical Shooters

# of players:

16 Online

Cheats:

On GameFAQs

Rating:

M
Far from a watered-down PS2 port, Fireteam Bravo provides a full-on FPS gaming experience on the PSP, with some multiplayer and connectivity features thrown in for good measure.

It is by far the most well rounded SOCOM game and delivers extended replay value both online and off.

SOCOM PSP is a simple, varied, and well put together game that works very well on Sony's handheld.
A great game that is better than Call of Duty. Great scope, great story, great graphics, every thing is pitch perfect to the max. Really good

and must be bought.

…

Expand

This is a really solid game. The graphics are good and the gameplay is good. Locking on does make the game top easy.

this game has really bad aiming, the story mode is horrible and the scoping is bad.