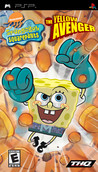 Summary:

The Super Villain Twenty Year Reunion is coming to Bikini Bottom and the evil Dirty Bubble has kidnapped Mermaidman and Barnacleboy for the festivities. It's up to Mermaidman's #1 fan, SpongeBob, to save the day. Help SpongeBob use his new super powers to fight the Dirty Bubble and his legio

ns of evildoers. Utilize all the special powers of Mermaidman's belt: Water Ball, Raging Whirlwind, Summon Sea Creatures, Super Speed and Super Strength. Explore the massive world of SpongeBob SquarePants in a dense and richly-detailed 3D environment. Non-linear gameplay allows players multiple paths in order to complete main objectives. [THQ]

…

Expand
Developer:

Tantalus Interactive

Genre(s):

Action

# of players:

1-2

Cheats:

On GameFAQs

Rating:

E
Although it doesn't feel as inventive as the DS installment, the core gameplay and story, spruced up presentation, multiplayer addition and subtle control improvements all mesh together as a portable romp well worth taking a gander at, especially if you're in search of a good platform action game for your PSP.

The platforming and the special powers and the occasional boss fight all help to liven up the world, but the large majority of it is tedious and highly repetitive.

It's a decent game, even if you'll have a sense of déjà vu the entire time. For hardcore SpongeBob fans only.

This game would be most ideal for children so young that they don't play games for their quality but for their content.
Surprised at what a fun game this is. Needed more of the bosses, but the game plays like the cartoon and looks just like it. Bought this for

my daughter, but played it myself. Pleasantly surprised, on the PSP.

…

Expand

i like spongebob even though im a teen, so thats ALL that was appealing about this game. it's like mario when u jump on top of bubbles,

but the platforming, and every other thing u could do in the game was just not fun at all!

…

Expand