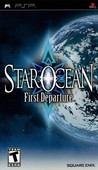 Summary:

Space Date 346: The crew of a Terran Federation ship arrives on the planet Roak. With the help of a stalwart band of local heroes, the crew must work together to unravel a mystery and halt a galactic war.
Developer:

TOSE

Genre(s):

Role-Playing

# of players:

1 Player

Cheats:

On GameFAQs

Rating:

T
All together, Star Ocean: The First Departure is a great remake of a title that we've never had released here, and it's a welcome addition to anyone's PSP RPG library.

If you own a PSP and you're a fan of J-RPG, you'll pick up Star Ocean: First Departure, with little doubt. The story is good. Refreshingly, the plot and voice acting are better than the same elements in quite a few much-hyped, non-RPG titles of the powerful HD console generation.

If you can look at First Departure and understand that it's based on a very old title, you'll likely be able to overlook the problems and get a fair amount of satisfaction from the simple but mildly rewarding gameplay and old-school themes. Otherwise, a bland, awkwardly told narrative and weak characters prevent Star Ocean from being anything more than an amusing tribute to an old hit.

But when there are so many better, more interesting RPGs on the PSP, why bother with one that simply drains your system's battery life?
Very good game, a lot was put into this game that wasn't in the original, and makes the game feel polished. Surprisingly good voice acti

ng, and anime style cut scenes really help the story telling along. In my opinion the best RPG on the PSP right now.

…

Collapse

I've been a big fan of Star Ocean since I played SO2 on PSX, and I've been waiting for this remake for years...and it didn't d

issapoint me at all! This game is for me the best RPG on PSP released to date...I finished it in 3 days, cuz I couldn't stop playing it everywhere. The story is great and fun, the characters are charismatic and completely different from each other, the battles are quick, easy and entertaining, you can change some parts of the story according to your actions and choices, and the classic graphics are not bad at all! Definetely the best!

…

Expand

A well done remake of the first Star Ocean game. The battle system is great and it makes the game play fun. The story is pretty good and this

game even has a multitude of optional characters making it fun to play several times. The only down side of the many optional characters is that it's hard to become emotionally attached to some of the characters. Overall Star Ocean: First Departure is a very enjoyable game.

…

Expand

Its a good game with the typical Star Ocean action battle system, which is as good as always.