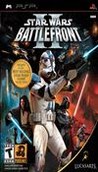 Summary:

Star Wars Battlefront II improves upon the original game's single-player experience with open-ended, mission-based objectives inspired from all six Star Wars films. The compelling storyline spans more than 12 new locations, many from Episode III, including volcanic Mustafar and the space

Star Wars Battlefront II improves upon the original game's single-player experience with open-ended, mission-based objectives inspired from all six Star Wars films. The compelling storyline spans more than 12 new locations, many from Episode III, including volcanic Mustafar and the space battle above Coruscant. All-new classic movie moments complete the Star Wars Battlefront II experience, as players battle within the interior of the Death Star and visit Princess Leia's blockade runner, the Tantive IV, as seen at the beginning of Episode IV A New Hope. In addition, at certain key moments within the battles, players can feel the Force as a Jedi. For the first time ever, Star Wars Battlefront II players can engage in space combat and, during the same battle, board enemy ships to attack from within. Starting on foot inside a capital ship, players can enter the spacecraft of their choice and travel into space to dogfight with the rival faction. From there, they can dock within the enemy's capital ship, overtake the ship's command posts, man its turrets to disable its shields and destroy it from within! Or, they can simply stay inside their own capital ship and defend it from attacks and enemy fire. The choice is theirs. The stellar online play that marked the original Star Wars Battlefront returns even bigger and better for Star Wars Battlefront II. [LucasArts]

…

Collapse

Developer:

Savage Entertainment

Genre(s):

Sci-Fi

# of players:

4 Online

Cheats:

On GameFAQs

Rating:

T
Not only is it the best handheld adaptation of a major console title, it adds extensive PSP-exclusive features making this a must-own game, even if you already have the game for another system.

Would have benefitted from an Infrastructure mode but the force is still strong in this one. [Jan 2007, p.67]

Fiddly control issues aside, Star Wars Battlefront II on PSP is a miniature miracle. [PSW]

There's just some unrealized potential here that keeps good from becoming great. [Holiday 2005, p.96]

It's got some of the console and PC versions' concepts and mechanics, but the lack of both a story-based campaign and online multiplayer sucks a lot of the fun out of this PSP shooter.

I would have given Battlefront II a strong recommendation if it had infrastructure mode (Internet) online multiplayer but unfortunately it doesn't which is a show-stopper, especially when you consider the retail price of the game.
This game is so vast and so good I can still hardly believe it 9 years later! The plethora of worlds, characters, weapons, vehicles,

This game is so vast and so good I can still hardly believe it 9 years later! The plethora of worlds, characters, weapons, vehicles, battles, options! It is probably the games medium where strides in technology happen fastest yet this game, graphics and all, holds up unbelievably well after an eternity of developments in the gaming industry!

…

Expand

i just cant put it down, and i haent played gta since i bought star wars, I love it so much.

Use the advanced controls setup and lose yourself for hours in the best shooter for the PSP. As many have said - shame there's no online

Use the advanced controls setup and lose yourself for hours in the best shooter for the PSP. As many have said - shame there's no online play - Socom has shown the way and I hope the next Star Wars has it. Good controls!

…

Expand

Battlefront II added some very good new features like a refined galactic conquest mode, more locations, and more cool playable characters

Battlefront II added some very good new features like a refined galactic conquest mode, more locations, and more cool playable characters (like Han Solo, Bothan spies, Mace Windu,and other assorted jedis or heroes). Though these are good improvements, there were also a lot of battlefields left out from the old game, a more complicted in-game display, and only one story mode (Rise of the Empire), that spanned only the clone and imperial factions. Overall the game was great, but I had envisioned a game with all the features that made the old game a hit plus some cool new ones. Sorry, even though I gave the game a good rating, I guess I enjoyed the old game too much to appreciate the new one for what it is: another great Lucasarts game.

…

Expand

its a great game but it is lacking being able to choose which jedi/villian you want to be on every level.

This game was awsome apart from the controls. also the campaign was too short. i finished it all in an hour. more maps and missions would

This game was awsome apart from the controls. also the campaign was too short. i finished it all in an hour. more maps and missions would have been nice. overall a great game.

…

Expand

I can't believe that this game is on the shelves when it is so full of bugs and glitches. The frame rate is awful with doors that open

I can't believe that this game is on the shelves when it is so full of bugs and glitches. The frame rate is awful with doors that open 10 seconds after the enemy has walked through it. Just because it says Star Wars doesn't mean that the game is worth spending £35. Others seem to be playing this game through a rose tinted screen.

…

Expand