Publisher:

Capcom

Release Date:

Feb 7, 2006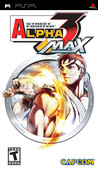 Summary:
A direct conversion of the critically acclaimed arcade fighting game, Street Fighter Alpha 3, Street Fighter Alpha 3 Max is enhanced with additional original content specifically designed for the portable system including Wi-Fi functionality and extra gameplay modes. Adding to an impressive roster of more than 30 renowned characters from the world famous Street Fighter universe, four additional fighters are joining the fierce competition. Utilizing the PSP system's superior performance and technology, Street Fighter Alpha 3 Max features new content specifically designed for the system. A gameplay mode new to the Street Fighter Alpha series, Variable Battle Mode, has been implemented to allow real-time tag team brawls. Tag out and the second fighter enters performing a jump attack, a move useful for escaping tight situations. Yun, Maki and Eagle, from Capcom vs. SNK 2, as well as Ingrid from Capcom Fighting Evolution, enter the arena and are perfectly reproduced with all new original storylines. Versus battles heat up with the Wi-Fi League Battle Mode that allow a maximum of eight players to duke it out in round-robin mini tournaments. [Capcom]
| | |
| --- | --- |
| Rating: | T |
| Developer: | Capcom |
| Genre(s): | Action |
| ESRB Descriptors: | Violence |
Designer/Producer/Programmer credits provided by
GameFAQs
.
If you contributed to this game and feel you should be credited, please read our
FAQ
.
| | |
| --- | --- |
| | |
| | #53 Most Discussed PSP Game of 2006 |
| | #43 Most Shared PSP Game of 2006 |