Publisher:

Konami

Release Date:

Feb 28, 2006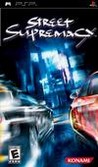 Summary:

Stepping away from the norm, Street Supremacy features innovative game modes that set it apart from other titles in the racing genre. This includes the unique 'Team Battle' mode, which doesn't utilize the traditional first, second and third place finishes. Players win the race by depleting

Stepping away from the norm, Street Supremacy features innovative game modes that set it apart from other titles in the racing genre. This includes the unique 'Team Battle' mode, which doesn't utilize the traditional first, second and third place finishes. Players win the race by depleting their rival's Spirit Points, which are decreased by contact with walls, cars and by falling behind other racers. Divided into 15 areas, two teams compete to dominate the game map through individual races between the different players. By earning points for each victory, players can judge how they stack up against their rivals and cherry-pick their competition from the player roster as they look to seize territories. Win and increase team loyalty, recruit defeated riders and increase your supremacy on the streets while being upgraded in the rankings. But lose, and learn quickly that there are no points for second place in street racing. In addition to Street Supremacy's stunning racing action, the cars in the game can also be modified to add an edge to the duels. The game's authentically modeled Nissans, Mitsubishis and Subarus can all be enhanced with new exhausts, paint jobs and spoilers. These all prove vital in shaving seconds off the lap times, while stickers and fancy lights can also be used to enhance the car's aesthetics, adding a layer of gloss to an already entertaining racer video game. Additionally, Street Supremacy also takes advantage of the PSP system's wireless functionality by letting gamers compete against a second player in the Vs. mode for a gripping head-to-head racing experience. [Konami]

…

Expand

Developer:

Genki

Genre(s):

GT / Street

# of players:

1-2

Cheats:

On GameFAQs

Rating:

E
It's a shame that such a well thought out RPG story mode got destroyed by long loading times and lack luster driving mechanics.

The structure is here for a great title, but it doesn't help when half the game's gone up in smoke. [Apr 2006, p.135]

The game suffers from long loads, poor control and an unplayable multi-player mode.

The best ice-racing simulator for the PSP. Too bad there's no option for winter tires. [Apr 2006, p.92]

Genki's seeming inability or unwillingness to fix the slidey physics even a little bit keeps each game from greatness. Hardcore TXR fans will likely cry foul at that remark, but anyone who wants their virtual racing to at least slightly resemble the feel of real driving will feel the same way.

If you're looking for some racing action on the go, you can get a much better, less frustrating experience from one of the many other street racing titles available.

Street Supremacy introduces an interesting concept with the racing gang turf war, but drives it off a cliff with bad handling, little excitement and no fun.
a born classic because compared to nfsu or other fantasy racing games you have to stratasize your acts.