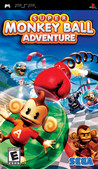 Summary:

Adventurers discover that in Super Monkey Ball Adventure their monkey balls now have a whole host of new abilities, including sticking to walls, hovering and the ability to become invisible. Super Monkey Ball Adventure also contains 50 new puzzle levels and six new party games to challenge g

amers of all ages. Players can select Aiai, Meemee, Gongon, or Baby to adventure their way through five different Monkey Ball Kingdoms to complete quests by solving puzzles and ultimately uniting the feuding Monkey Kingdoms. The original Monkey Ball characters of Aiai, Meemee, Gongon & Baby are back. They are joined by a host of new characters, including a Prince and Princess, who are being kept apart by a feud between their kingdoms. The couple run away to Jungle Island where they enlist the help of the Super Monkey Ball gang, to unite the feuding Monkey Kingdoms and defeat the Naysayers who have sucked all the joy from the Monkey Ball world. [Sega]

…

Expand
Developer:

TT Games

Genre(s):

Platformers

# of players:

1-4

Cheats:

On GameFAQs

Rating:

E
There's so much packed into this you'll be playing it long after you've completed the main story mode - and you can't say that about many PSP games now, can you?

We can recommend the multi-player experience, but if you'll be playing it single-player, there are far better platformers out there. [July 2006, p.60]

While the game has a lot of solid concepts, a ton of stages, and some pretty good "boss" fights, (if you even want to call them that) the game sadly suffers from a horrible camera and just annoying challenge; and in the end, the experience isn't memorable by any means.

Slightly better controls, slightly worse framerate and equally blah adventure and mildly distracting party games leave this just as middle-of-the-road as the PS2 version. But hey, at least it's the same thing only portable, right?

The Challenge and party modes are the redeeming features, but they're only the side dishes- and the main course will leave you with a particularly bad taste in your mouth.

The fundamental gameplay created by the 'monkey in a ball' mechanic simply doesn't work within the confines of an adventure title.

In the name of progress, Super Monkey Ball Adventure has abandoned everything that makes the Super Monkey Ball series fun.
This game is great. The gameplay is timed well. You'll be playing it for a decent amount of time before you finish and then you still wo

n't want to put it down. It's so addicting, cute monkeys and magic...what more oculd you want? The only gripe I have is the really bad camera control. it is to your disadvantage all the time. All in all I love this game.

…

Expand