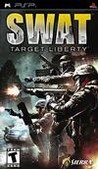 Summary:
SWAT: Target Liberty captures the heart-pumping action of real-life close quarters combat of specialized police units. With the help of Ken Thatcher, a 29-year Los Angeles S.W.A.T. veteran enlisted as the game's consultant, SWAT: Target Liberty for the PSP system captures the same authenticity as previous titles. Penned by script writer Scott Rosenbaum ("The Shield"), the SWAT: Target Liberty game action is set in New York City where a special weapons and tactics team is tasked with thwarting an ever increasing number of international terrorist threats. Each officer in the unit has a specialty and using a unique skill system, the player can upgrade their individual combat expertise to increase their chances of success. The game also features an ad-hoc multiplayer system which allows gamers to play in a variety of game modes. [Sierra]

| | |
| --- | --- |
| Rating: | T |
| Official Site: | http://www.swatpsp.com/us/ |
| Developer: | 3G Studios |
| Genre(s): | Other Shooters |
| Number of Players: | 1 Player |
| ESRB Descriptors: | Blood, Language, Violence |
| Number of Online Players: | 4 Players Online |
Designer/Producer/Programmer credits provided by
GameFAQs
.
If you contributed to this game and feel you should be credited, please read our
FAQ
.