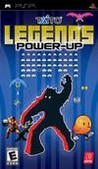 User Score
tbd
No user score yet- Awaiting 2 more ratings
Summary:

(Currently available in the UK/EU only) To become a KAZooK super-star you have to make your way through the ultimate party games collection that can take you anywhere and bring to life your wildest dreams, or weirdest nightmares. Face killer Zombies, pilot out of control UFOs, fight with ma

d sweaty Sumo's, cause mayhem at an outrageous pool party and encounter many other thrills and oddities. Kazook is a bizarre collection of 30 totally addictive mini-games set in a distinctly stylized world. With 16 wacky characters to choose from from cool skater kids to scary Goths, to hard-core gangster rappers and sexy beach babes - drive yourself crazy with excitement. 30 bizarre mini-games - simple shoot-em-ups to dance games, Fighting to Racing - Offering a variety of game styles, each with its own challenge – something for everyone. Take control of one of 16 characters – all-star rappers, skate-kids, wild Goths girls and cool street dudes among others as you take on the many challenges KAZooK has to offer. 3 solo game modes: Normal – Battle through each mini-game one-by-one, unlocking more levels and bonuses. Survival – Test your staying power – play through all the minigames, lasting as long as possible. Party – take on the challenge of completing all minigames to become the ultimate party superstar! Wi-Fi Multiplayer – 27 mini-games can be played 2 player using the PSP wi-fi feature and 6 can be played hot-seat on one PSP - beat, blast and race your friends. Are you KAZooK? Game Sharing – 5 of the minigames can be shared with other PSP's using only one game UMD. Controls – Simple controls allows gamers of all abilities to pick it up and play but impossible to put down! [Xplosiv]

…

Expand
Developer:

Empire Oxford

Genre(s):

Compilations

# of players:

1-2

Cheats:

On GameFAQs

Rating:

E
Cheap, cheerful and a good laugh, even if it does lack a little longevity.

A tepid bundle of mini-games that fails to raise a laugh or even the pulse. [Dec 2006, p.100]

Kazook is like "Ape Academy", but without the apes. Oh, and the fun. [Dec 2006, p.95]

To put it simply, if the idea of thirty very simple arcade games with no real objective other than good old fashioned high score setting appeals and you can put up with the strained atmosphere of craziness then you may get some fun out of this well presented but ultimately flawed collection.
Those reviews don't do this thing justice, I personally think it's one of the best PSP games made to date. It just has that fun fee

l to it something 99% of the games for any platform lack nowadays.

…

Expand