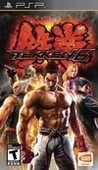 Summary:

Tekken 6 sees the return of many familiar faces as well as new characters to create the largest line-up the series has ever seen. With a growing roster of fighters, each equipped with their own deadly techniques, martial art moves, and attack combinations, Tekken 6 promises to be the best

Tekken 6 sees the return of many familiar faces as well as new characters to create the largest line-up the series has ever seen. With a growing roster of fighters, each equipped with their own deadly techniques, martial art moves, and attack combinations, Tekken 6 promises to be the best "King of Iron Fist Tournament" yet. Adding to the already rich gaming experience, a deeper character customization feature will only enhance the incredible fighting intensity as players go mano-y-mano. Optimized for the PSP system, Tekken 6 not only contains all the explosive action of its home console brethren but also feature additional stages, content, items, and an ad-hoc multiplayer mode. Fighting amongst friends is encouraged as players can battle wirelessly against each other using original or fan favorite characters. Rounding out its list of impressive features is the return of the Ghost Infrastructure mode, which allows players to upload their "ghost" character data and download others' from the Internet onto their PSP system. When players have reached the height of their Tekken fighting skills, they will be able to see how they stack up against others through the game's network support. [Namco Bandai Games]

…

Expand

Developer:

Namco Bandai Games America

Genre(s):

3D

# of players:

1-2

Cheats:

On GameFAQs

Rating:

T
To be frank, Tekken 6 features the most complete and rewarding fighting experience on PSP, and is a must buy for any fan of the genre.

Tekken 6 on the PSP is exactly like the PS3 version of the game, only the scenario mode is missing. The scenario mode on the PS3 version is pretty boring so you don't miss a lot. The game is a great fighter and it's got a lot of fighters as well. Great graphics and is perfect for the fans.

A wonderful port that bestows PSP owners of one of the best beat'em ups ever, surely the best portable one. Great controls, fast fights, amazing visuals. This is Tekken 6 for Playstation Portable.

A top pocket beat-'em-up in its own right, but a little lacking compared to its predecessor. [Feb 2010, p.73]

An excellent version of a great game. I don't even miss the parts that was removed from the PS3 version. It looks good, has great control, a lot of characters and fits the handheld formula well.

Just like with Tekken 5: Dark Resurrection this is a successful adaptation of the original game to the portable format.

As with all fighting games, Tekken 6 - just like a certain something else - is fun to mess around with by yourself, but certainly more enjoyable if you can play with someone who knows what they're doing.
if you love 3D fighting games like Virtua Fighter and DOA this game is alot better than those franchises and the handheld version of T6 for me

if you love 3D fighting games like Virtua Fighter and DOA this game is alot better than those franchises and the handheld version of T6 for me is actually better than the console version

…

Expand

This game is totally amazing. IT has great graphics and the story is great too. the new character are nice and make the game very interesting

This game is totally amazing. IT has great graphics and the story is great too. the new character are nice and make the game very interesting to play. i think that this game is a great game to play and will keep everyone entertained

…

Collapse

I have Tekken 6 for both the PSP and the PS3 and I can honestly say that the portable version is much better than the console version. The

I have Tekken 6 for both the PSP and the PS3 and I can honestly say that the portable version is much better than the console version. The loading times are much better than on the console and what makes this game last longer than the console games is the Ghost Battles. The console versions only let you rank up to 1st dan before playing online but on the PSP you can rank all the way to Tekken God. Its also a great way to practice for online play on the console if you like to win games with skill rather than just spamming the same move over and over again. I am also very impressed with the graphics on this game. There are two new things to the gameplay this time. First is the bound system, which helps you land big combos and there is also the rage mode which make the character more powerful if the health is low. Rage mode makes the Survival mode much trickier than it was on Tekken 5: DR. In my opinion the combos in this game are excellent and they make this game one of the best fighters ever made. There are a few drawbacks on this game. The biggest one is that there is nothing no online play for this and also it would have been better if the Tekken Dojo was brought back from T5:DR. The story mode is also disappointing and it only lasts for 4 matches and don't get me started on the last boss Azazel. Also it would have been great to be able to download ghost players like on T5:DR. I would highly recommend this game because it has a higher reply value than the console version. When it comes down to the actual gameplay I would rate this game higher than any other Tekken I have played.

…

Expand

If you are a fan of fighting games and you don't mind not being able to play against other people anytime you want then this is

If you are a fan of fighting games and you don't mind not being able to play against other people anytime you want then this is definitely the game for you. If you are not that big of a fan of fighting games then you might grow tired of this game quickly. Tekken six only packs ad hoc multiplayer (you can only play with someone in the same room as you) and no game sharing like tekken dark resurrection. Also the devs took out tekken bowl and also battle replays for single player. What makes it worse is that they could have probably fit it in the game without running out of space since it was only around 800 megs when i downloaded it.(a umd can hold around 1.8 gigs) The graphics are definitely improved from tekken dark resurrection and the new 5 or 6 new characters(not sure) add a fresh coat to the game. One of the things i disliked about this game is that the story mode is super short now. You only fight against a max of four people and then the characters story mode is done. Sometimes it is four other characters or just two characters, jin kazama, and a boss. And i forgot to mention this but the boss dude is extremely cheap and frustrating. I punched my psp multiple times while i was playing because i was so frustrated (i don't get this frustrated over games easily and don't worry i have a really good case that can handle all of that) But ya it is very frustrating. In dark resurrection most of the ending movies were pretty good and some of them were just EPIC!, but i have not found that kind of epicness in these tekken six ending movies which is kinda bad for me since that was one of my favorite parts of tekken dark ressurection. Also some of the movies just make no sense whatsoever. Well, to me they dont, not sure bout you guys. O yeah and one last thing that i forgot to mention earlier, now they dont have any encounters like in tekken dr where you met a person in the story mode and you talked to them about something. They took that all out which makes the story a lot LESS deeper and sometimes even more confusing. The core gameplay, though, the fighting, is great. This series has always had really intense moments where you know anyone could win or something like that. That is why i say that if you are a fighting fan then you have nothing to worry about. But ya, your welcome for my review.

…

Expand

This is an amazing game that is a must-buy for anyone who is a fan of the fighting-genre, and even if you're not, this game will still get

This is an amazing game that is a must-buy for anyone who is a fan of the fighting-genre, and even if you're not, this game will still get you playing. The gameplay first seems simple with each button dedicated to each limb of a character, but there is a surprisingly deep-interface that allows several moves to be linked together, called "juggling", that allows you to hit the opponent multiple times while they are helpless, and it distingiushed between the casual player and the experts of these games. With a roster of 40 characters and tons of costumes to unlock by earning cash from winning fights, you can expect to play this game for a long long time, and each character has his or her own story in Story Mode.

However, it also has it's share of problems, in this case the lack of game modes. I would like it if they introduced something like "Tekken Bowl" in Tekken 5 where you go bowling with Tekken characters. They could have been more imaginative like add a sport here. Nevertheless, an awesome game that is a must-buy.

…

Expand

It's not very often you see any PSP game outdo its console bretheren but for TEKKEN 6 on PSP, this is one such case. This game is ast

It's not very often you see any PSP game outdo its console bretheren but for TEKKEN 6 on PSP, this is one such case. This game is ast and fluid and completely does away with the lacklustre modes of its bigger counterpart. Just like Dissida and Broken Destiny, this is one fighter that can't be missed on your PSP.

…

Expand

A good game. but it feels like a demo version of the xbox 360 or ps3 versions because it has only some modes and nothing new in the portable

A good game. but it feels like a demo version of the xbox 360 or ps3 versions because it has only some modes and nothing new in the portable version or an online mode.

…

Expand