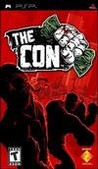 Summary:

The Con is an innovative 3D fighting game based on an underworld where illegal fighting tournaments exist and high-stakes gambling takes center stage. During gameplay, players can train their fighter to fight solo or in a team of three in Story Mode where their ability to build up a team and

implementing match-up strategy plays a huge role. In addition, utilizing Ad Hoc mode that enables wireless gaming, The Con allows players to compete in various head-to-head fighting matches. Throughout gameplay, players can learn re-programmable fighting combinations based on five different brawling disciplines -- Boxing, Wrestling, Kick Boxing, Tae Kwon Do and Jeet Kune Do. [SCEA]

…

Expand
Developer:

SCEA, Think and Feel

Genre(s):

Fighting Games

# of players:

1-2

Cheats:

On GameFAQs

Rating:

T
The gameplay is so compelling and entertaining that it makes for a truly addictive and wonderful knockout of a game - and I'm not trying to con you here!

It's definitely the most fun I've had with a fighting game in a long time, and it's also the one title that's managed to bring my PSP out of storage. [Nov 2005, p.178]

Delightfully wicked concept debuts in this fighting game, that manages to impress with its decent fighting engine.

Boring, repetitive and not even close to being fun whatsoever.
I think this is an excellent game.

If you consider the fact that the PSP is a contender for the worst D-pad of any console invented, it's a welcome idea that someone didn&

#039;t make a traditional fighter for the PSP. It combines the best of Tekken and Punch-Out, and the betting system is pretty cool. By the way, you CAN kick in just about every fighting style...

…

Expand

This is a fighting game that caters to dumb people. Bigger, badder, and dumber, about sums it up. Oh yeah, and you can't kick. Just a bu

nch of a slow boxing jabs. yawnz...

…

Expand