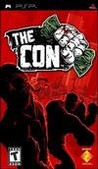 Summary:
The Con is an innovative 3D fighting game based on an underworld where illegal fighting tournaments exist and high-stakes gambling takes center stage. During gameplay, players can train their fighter to fight solo or in a team of three in Story Mode where their ability to build up a team and implementing match-up strategy plays a huge role. In addition, utilizing Ad Hoc mode that enables wireless gaming, The Con allows players to compete in various head-to-head fighting matches. Throughout gameplay, players can learn re-programmable fighting combinations based on five different brawling disciplines -- Boxing, Wrestling, Kick Boxing, Tae Kwon Do and Jeet Kune Do. [SCEA]
| | |
| --- | --- |
| Rating: | T |
| Developer: | SCEA, Think and Feel |
| Genre(s): | Fighting Games |
| Number of Players: | 1-2 Players |
| ESRB Descriptors: | Alcohol Reference, Mild Language, Simulated Gambling, Violence |
| Offline Modes: | Competitive |
| Connectivity: | Wi-Fi |
Designer/Producer/Programmer credits provided by
GameFAQs
.
If you contributed to this game and feel you should be credited, please read our
FAQ
.